Photography is a wonderful and awe-inspiring form of art, where the photographer has the power to capture some brilliant moments. Bird photography is one way to preserve images of nature's best creations. Almost every photographer wants to take shots of majestic and colourful birds because they make a very strong photography subject. Very few bird sanctuaries give photographers an opportunity to capture a great variety of birds, and Salim Ali bird sanctuary in Goa is one of these. This sanctuary got named after a prominent Indian ornithologist Dr. Salim Ali.
Goa is considered to be a party destination but it also offers great opportunities for photography because of its varied landscape and historical buildings. In particular, bird watchers and photographers find Salim Ali bird sanctuary to be a preferred spot for getting some awesome bird shots. Accordingly, the sanctuary has been developed in a way that visitors can have a good look at the birds here.
If you are thinking of venturing into bird photography, read on to know all the details about this sanctuary, so that you can plan a hassle-free trip and return with some magnificent shots.
Detailed Information About Salim Ali Bird Sanctuary
The Salim Ali Bird Sanctuary in Goa got named after a prominent Indian ornithologist Dr. Salim Ali, who was very famous for his studies on the habitat and life of a large number of birds. However, the bird sanctuary in Goa is not the only one named after Dr. Ali.
The Thattekad bird sanctuary in Kerala was also so close to the famous ornithologist that it is also referred to as Salim Ali bird sanctuary of Kerala.
With an area spanning about 440 acres, Salim Ali bird sanctuary features among the smallest bird sanctuaries in India.
What makes this sanctuary unique?
It is the fact that it is situated in a mangrove marshy land, and requires visitors to hire a boat to explore the sanctuary. During high tide, the river Mandovi tends to submerge parts of the sanctuary while in low tide, many parts of the sanctuary cannot be traversed by boat.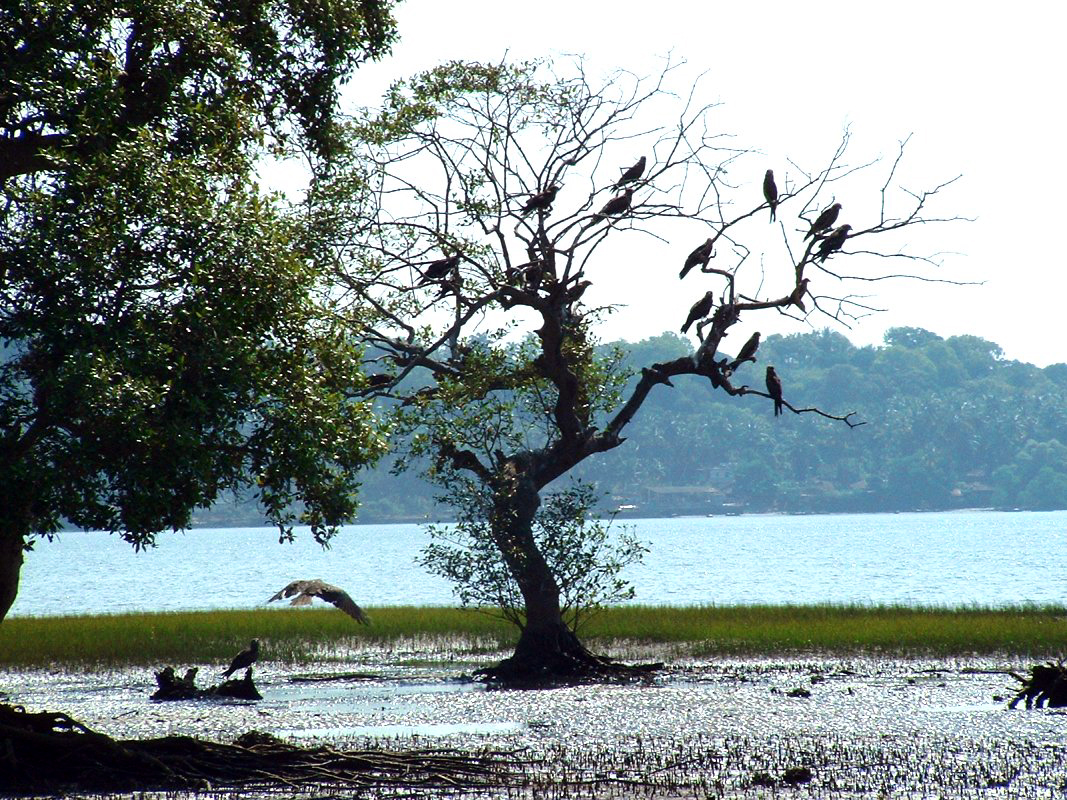 Right at the entrance of the sanctuary, the Nature Interpretation Centre provides all pertinent information about the sanctuary in a nutshell.
You will find a list of the flora and fauna in this sanctuary. It is here that you will also find details about the different types of birds in the sanctuary, their mating season, nesting habits and food preferences. The most prominent features of each type of bird found here are also listed. This makes it easy for the visitor to identify the bird they sight.
As you enter the sanctuary, you will see a watchtower.
This watchtower gives excellent panoramic views of the sanctuary. As you climb up the floors in this tower, you will be able to see fantastic views from below the forest cover to see the birds picking food from the ground, through the forest cover where they build their nests, and eventually, from above the forest cover where the birds will be in flight. These ascending levels of the watchtower are perfect for capturing excellent bird shots.
Also read Camera Settings for Bird photography: A Beginners' Guide
The sights of birds perching majestically over trees is so precious that even the best photographs do no justice to it.
From the main reception area of Salim Ali bird sanctuary, a straight paved walkway that extends to 1 kilometer, provides a great view of the mangroves. It is here that you will get to see the roots and other specific mangrove parts closely. There are no roads inside the sanctuary.
The average time spent in this sanctuary varies between 5 and 7 hours, and even though you will take home lots of photographs, your heart will yearn for more.
Birds Found at Salim Ali Bird Sanctuary, Goa
It is estimated that more than 400 distinct types of birds inhabit this sanctuary, including the huge number of migratory birds that visit this sanctuary from countries as far as Serbia, Russia, Turkey and Tibet. Migratory birds tend to flock to Salim Ali bird sanctuary in thousands.
During their preferred nesting season here, finding these birds standing together in the river is common.
The most prominent species that you find here are western reef heron, curlew, black bittern, striated heron, hoopoe, blue winged teal, jack snipe, white egret, madder duck, red knot, cormorant, woodpeckers, pied avocet, sandpiper, kingfisher, mynah, whimbrel, pintail, Brahminy kite and drongo.
Check out Photographing Birds in Flight: Learn How to Shoot Perfectly
Flora and Fauna at Salim Ali Bird Sanctuary
Rhizophora and Avicennia are the major trees that grow in these mangroves, but a lot of other local plants can also be found here.
Among the major animal species that inhabit this sanctuary, the most common ones are Porcelain fiddlers, otters, Teleotanais, crabs, crocodiles, jackals, and mudskippers. Because of the marshes and thick vegetation, plenty of insects and fish are also found here.
With a huge diversity in life forms, Salim Ali bird sanctuary is like a tropical paradise for nature lovers. The presence of so many kinds of animals, plant, flowers, and birds creates a unique habitat that is favourable for dwelling.
Read: How to Choose the Best Lens for Bird Photography
How to Reach
You can reach Panaji by different means of transport.
Here are few options:
By Plane
Dabolim Airport is the nearest airport to Panaji, located at a distance of 35 kilometers. It is well connected by flights. You can then take a cab or bus to Panaji.
By Train
The nearest train station to Panaji is Karmali (10 kilometers), but the train station Madgaon (45 kilometers) is more connected by express trains. You can then take a bus or cab to reach Panaji.
By Road
Panaji is well connected from major junctions in Maharashtra and Karnataka by interstate air-conditioned buses.
Once in Panaji, you have to travel 15 minutes by road to reach Ribandar ferry wharf. This point can be reached by public transport like bus or taxi.
Personal vehicles may also be used to reach this point, from where you can take a ferry ride to reach Salim Ali bird sanctuary. The sanctuary is located on the Chorao island in the basin of the tidal river Mandovi.
Regular boating trips are arranged between October and May from Chorao to the watchtower inside the sanctuary.
When to go: Ideal Time to Visit
Salim Ali bird sanctuary remains open for public between 6 am and 6 pm every day. However, for the best bird photography experience, it is advisable to reach the sanctuary as soon as it opens in the morning. This is because early morning is the time when birds are most active and there are higher chances of sighting them and finding amazing shots.
The preferred season to visit this sanctuary is between the months of October and March. This is the time when many migratory birds from far-off lands arrive here. During these months, the sanctuary is transformed into a bird paradise, and you will be able to find captivating bird shots of native and migratory birds here.
The beauty of this sanctuary is enhanced many folds just after the monsoon months of July and August. The fresh downpour of rains brings with it a fresh assortment of colourful blooms and unleashes a new life in the mangroves and other thick vegetation here. Therefore, a visit to this sanctuary in early September will yield vibrant photographs.
What you will Spend: Entry Fee
Indian nationals have to pay INR 10 per person while foreigners have to pay INR 100 per person for visiting Salim Ali bird sanctuary.
In addition, you will have to pay extra for still photography (INR 25 per camera) and videography (INR 150 per camera).
If you want to hire an entire boat, the charge will be INR 750 and can accommodate up to 10 persons. Additional charges for the camera will still apply.
Summing Up
Salim Ali bird sanctuary is a gem for bird photographers and bird watchers. A visit to this sanctuary provides you with hundreds of opportunities that test your photography skill. When you visit this sanctuary, you will be surrounded by the chirping sounds of a variety of birds and pretty sights of these winged creatures as they go about their daily activities.
Whether it is a resident bird or a migratory bird that has travelled from far away, you will find ample of time to click their perfect shots.
The sheer diversity of birds that you will find here will leave you awestruck. Some of the unique bird shots can be clicked here. However, you will have to make sure that you choose the right season and time to visit this sanctuary.