There is hardly any birder or bird photographer out there in India who don't know about Bharatpur Bird Sanctuary. Suppose you are sitting in a room full of birders and bird photographers; while discussing (and also boasting) about the places they have traveled so far, one name will be common in everyone's list – Keoladeo National Park, formerly known as the Bharatpur Bird Sanctuary.
This UNESCO certified World Heritage Site is blessed with over 380 bird species of 56 families, out of which over 120 are migratory birds.
With a rich biodiversity owing to its grasslands, wetlands and semi-dense woodlands, you will have over 7100 acres of area to explore and that too without any use of motor vehicles!
Bird Photographers are well aware of the consequences of urban interference in native habitat. It is really surprising how the once waterfowl hunting site has been transformed into an area rich in Avifauna with the influence of renowned Ornithologist Salim Ali.
Also, read - Bird Photography: The Ideal Guide for Beginners
Before getting into the aspects of birding and safari, let's have a look at how it all started and what you can expect in Bharatpur.
Table of Contents
History of Keoladeo Ghana National Park
Deriving its name from the other name of Lord Shiva – Keoladeo, the park came into being about 250 years ago.
It was a lowland flooded by the Ajan Bund at the confluence of the rivers Gambhir and Banganga constructed by the then Maharaja of Bharatpur – Suraj Mal.
It was served as the royal hunting ground owing to the tradition dating back to 1850. With the dawn of the Colonial Era, British Viceroys came here to enjoy the duck shoots from 1936 to 1943.
A record shows that around 4300 aquatic birds including waterfowl, mallards and teals were hunted down by the then Governor General of India, Lord Linlithgow.
How Bharatpur Bird Sanctuary came into Being
On 13th March 1976, the hunting ground was designated as Bharatpur Bird Sanctuary. Ramsar Site under Rajasthan Wetland Convention was created in October 1981. In 10th March 1982, the park was acknowledged as a National Park, thereby putting an end to grazing inside the park. UNESCO declared this as a World Heritage Site in 1985.
Location and Geography
Keoladeo Ghana Bird Sanctuary is situated in Bharatpur, Rajasthan, around 60kms from Agra. The park consists of Indo-Gangetic wetlands, open water bodies, Savanna grasslands and a few semi-dense woodlands.
Over 379 species of flora including 96 wetland plants favor the habitat of numerous birds and animals.
The park acts as a breeding ground for over 130 birds. Tropical dry deciduous forests, dry grasslands, shrubbery and medium-sized trees are found in this area creating a diversified landscape.
How to Reach
By Air
The nearest airport is Agra (56kms from Bharatpur). You can avail Jaipur airport too.
By Railways/Train
Delhi to Bharatpur distance over railroad is 184kms. There are regular train services from Mumbai, Jaipur, Varanasi, Lucknow, and Agra too. Take Taxi or rented a car to reach Keoladeo National Park covering 5kms.
By Road
Regular Bus services from Delhi (180km), Jaipur (178km), Alwar (117km), Agra (55km) and Mathura (35km)
Avail your own vehicle to reach Bharatpur Bird Sanctuary from Delhi covering Taj Express Highway or Yamuna expressway (235km) or NH19/NH44 (252.5km) or NH248A (226km)
How to Explore Keoladeo National Park
There is the unique policy of the park authority – no motor vehicle is allowed after the second gate, but not to worry as there are other ways around. Cover on foot or hire a hand-pulled rickshaw or pedal yourself.
The rickshaw pullers surprisingly are knowledgeable about the birds found here along with their English names and will guide you through the places where they are found in abundance. There are bicycles on rent too.
Early morning or late evening Boats are available for hire to explore the national park. You are free to use any ecology-friendly transport and explore the way you wish, without creating any unrest among the birds.
Birds you can Expect to Find
Due to its strategic location in the Central Asian Flyway, Keoladeo National Park is a safe abode to rest before taking off to other regions.
From over 380 birds species found here, there are five Critically Endangered, two Critically Endangered and six Vulnerable bird species that need to be conserved strategically.
Obviously, these rare and elusive birds along with the plethora of native birds attract innumerable birders and bird photographers.
Native Birds
The highlight of Keoladeo National Park is the tallest flight bird Sarus Crane that is always seen in a pair.
It is said that they are very much attached to their partner and hence if one of the pairs dies, the other also succumb to the grief.
You can find them in marshy land areas and in open grassy fields in various photogenic postures, especially during their courtship dance. Their nest is also nearby their treading place; however, you are not supposed to go near the nests.
Predator birds like Osprey, Marsh Harrier, Tawny Eagle, Black Kite, Laggar falcon, Peregrine Falcon, Pallas' Sea Eagle, Imperial Eagle, Spotted Eagle, Short-toed Eagle and Crested Serpent Eagle are abundant; offering photographer who wants that perfect "freeze" or "action shot" excellent opportunity.
Read: Photographing Birds in Flight: Learn How to Shoot Perfectly
Common Peafowl, Painted Francolins, and Bush Quails will show you a riot of colors to capture on camera. Other common birds are as follows –
Buntings: Crested Bunting, Black-headed Bunting, Red-headed bunting etc
Warbler: Blyth's Reed-warbler, Thick-billed Warbler, Clamorous Reed Warbler etc
Bulbul: Red-whiskered Bulbul, White-browed Bulbul, Red-vented Bulbul etc
Starling: Common Starling, Rosy Starling, Brahminy Starling, Common Myna etc
Apart from these, there are Ashy Prinia, Plain Prinia, Paddyfield Pipit, Citrine Wagtail, White Wagtail, Red Adavat, Indian Silverbill, Scaly-breasted Munia, White-rumped Munia, Purple Sunbird, Baya Weaver, Common Tailorbird, Oriental Magpie Robin, Purple Sunbird, Rufous Treepie, Black Drongo, Ashy Drongo, Common Kingfisher, Pied Kingfisher, White-throated Kingfisher, Indian Roller, Coppersmith Barbet, Brown Fish Owl, Mottled Wood Owl, Short-eared Owl, Collared Scoops Owl, Spotted Owlet, Common Barn Owl, Greater Coucal, Indian Nightjar etc.
Read all about the list of Bird Sanctuaries in India You Should Visit!
Migratory Birds
Birds from Siberia, Egypt, Afghanistan, Turkmenistan, Tibet and China flock here in the pick winter season. The Siberian Cranes migrating very less in number is a very alarming thing to ponder about.
However, if you are lucky, you might spot one or two and add a feather in your photographic career! Egyptian Vulture is a rare and prized species to photograph.
Common Crane, Demoiselle Crane can be seen here around wetlands in flocks.
Darters, Coots, Great-white Pelicans, Dalmatian Pelican, Geese and other Waders are found in abundance in the lake and provide stunning vista with the backdrop of foliage in the early morning.
The various migrant waders include Ducks like Tufted Duck, Gadwall, Northern Shoveler and Knob-Billed Duck, Ruff, Teals like Eurasian Teal and Cotton Teal (Cotton Pygmy Goose), Little and Great Cormorant and Indian Shag and Sandpipers like Common Sandpiper, Green Sandpiper and Wood Sandpiper, Indian Skimmer, Pallas' Gull, River Tern, Pheasant-tailed Jacana, Bronze-winged Jacana, River Lapwing, Little Ringed Plover, Grey-headed Lapwing, Pied Avocet, Black-winged Stilt etc.
Read about another photographer just like you: Harminder Mohan Bareja - Bird Photography Enthusiast
Wire-tailed Swallow, Barn Swallow, and Streak-throated Swallows are found hovering around.
Indian Robin, Tickell's Blue Flycatcher, Asian Verditer Flycatcher, Bluethroat, Siberian Rubythroat, Taiga Flycatcher, Ultramarine Flycatcher, Red-breasted Flycatcher, Black Redstart, Blue-Capped Rock Thrush, Pied Bushchat, Grey Bushchat, Stonechat, Orange-headed Thrush, Black-naped Monarch, Indian Paradise Flycatcher, Brown Shrike, Common Iora, Scarlet Minivet, Black-hooded Oriole, Green Bee-eater, Blue-tailed Bee-eater, Blue-cheeked Bee-eater, Eurasian Eagle Owl, Oriental Turtle Dove and many more.
Beside the water-body and on top of trees you will find hundreds of herons, Oriental Ibis, Cormorants, White Spoonbill Stork, Asian Open Billed Storks, Painted Storks nesting during the breeding period.
With so many birds at one place, it looks like a world where birds are dominating.
Read: Camera Settings for Bird photography
Climate and Best Time to Visit
The climate in Bharatpur, Rajasthan ranges from 38 -45 degree Celsius in Summer (April-June) and 6-10 degree Celsius in Winter (October end –earlier March).
Keoladeo National Park – Best time to visit is during the winter months due to the influx of Migratory Species.
During June to September and March-April, you can enjoy photographing the native birds.
Additional Details
Visit Keoladeo National Park official site (

[email protected]

) or

http://rajasthanwildlife.in/

to arrange hotels or travel packages
Keoladeo National Park safari starts from 6.30 am to 5 pm in winter season and from 6 am to 6 pm in summer months
Bharatpur Bird Sanctuary entrance fee for Indian citizens is INR 50 while that of foreign nationals is INR 400.
- Guide charge is INR 200
- Rickshaw for an entire day is INR 1200 (INR 50 for 2 persons/hour)
- Horse-drawn cart/Tonga charge is INR 150 for 6 persons/hour
- Bicycle rental the charge is INR 40/half day
- Boat rental at INR 50/hour.
No camera fees except for Handycams and other commercial use cameras.
A number of Bharatpur Bird Sanctuary resorts are there where you can stay.
Other nearby attractions include Bharatpur Palace, Lohagarh Fort, Bharatpur Government Museum and Deeg Palace that showcase British and Mughal architecture and landscaped gardens for those who would love to take a break from bird photography and try out different genres.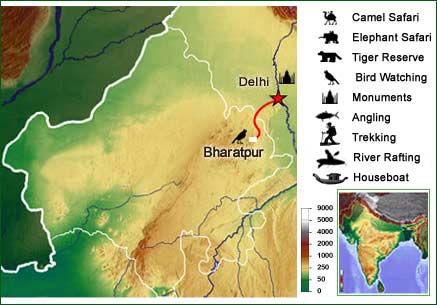 Summing Up
If you are an avid bird photographer or have just started bird photography, Keoladeo Ghana National Park should definitely be on your wishlist. Cover the fauna infested corners on foot or take a rickshaw to enjoy early morning activities of birds in mist.
Pedal along the smooth path as the early morning beams kiss your face and colorful feathers greet you alongside or take a boat to photograph the birds in "golden hour".
Bharatpur is all yours to explore the way you want.
From dancing Peacocks to courting Saras Cranes, a flock of Pelicans to breeding Openbill Storks – everywhere you look, you will find birds to let your shutter go click-click!
Cover Source