You haven't captured wings on the reel yet, if you still haven't visited Chilka lake!
Asia's largest inland saltwater lagoon, and the largest lagoon in India, the Chilka lake is situated in Odisha and is separated from the Bay of Bengal by a sandy ridge.
Renowned as the largest wintering ground for migratory birds, the ecosystem of this lake is home to some rare and exotic species of plants and animals.
Nestled across a wide area of 11,000 square km, the brackish water lake is located in Puri which is quite a popular pilgrimage spot in Bhubaneswar, Odisha.
With over 9 lakh migratory birds traveling to this lake from Siberia and other parts of the world, wouldn't your photographer soul be hyped up about visiting the lake to capture some excellent photographs?
Clicking these unusual species is worth a shot, right?
About Chilka Lake
Situated in the holy city of Bhubaneswar, Chilka is the largest lagoon in India and the second largest coastal lagoon in the world. It runs 64 km in length, while its distance across is between 18km and 5km. Ever-varying in dimension, the lake is shaped by the flow of two major rivers, Daya and Bhargavi, and many little rivulets. The lagoon is a large ecosystem host to rich fishery resources and around 1.5 lakh fishermen reside in nearby villages and islands to use these sources. The lagoon has numerous islands, some of which are uninhabited.
Boasting of its flawless untouched natural beauty, Chilka was declared a Ramsar Wetland site of International Importance in 1981. It has also served as a flourishing port to distant lands.
Trading activities use to take place between Odisha and a few Southeast Asian islands such as Sri Lanka and Java.
Even today a local festival referred to as 'Biota Bandana' is celebrated by sailing fancy colorful boats to mark the golden age of maritime traditions.
Extremely popular for its bird and dolphin species, wildlife in chilka is incomparable to any other sanctuary in India.
Lining the shores of this lake are tall trees that fill the ambiance with sweet melodies of bird songs and amidst the lake are beautiful fishing boats with fishermen exploring on them.
The Chilka Lake Bird Sanctuary is undeniably a bird photographer's paradise. But it is also a must-see for the common tourist.
Boating in the crystal clear water of the lake and seeing so many stunningly feathered creatures will surely be an utterly enjoyable experience for all.
Also read about Keoladeo National Park, Bharatpur: A World Heritage Site for Bird Photography
Important Logistics: Area, Location, and Offices
The Chilka Lake Bird Sanctuary is located in the state of Odisha (formerly Orissa) and is very near to Bhubneshwar city.
The lake covers an area of around 1169 square kms.
It extends from Bhusandpur in Puri district in the North to Rambha-Malud in Ganjan district in the South, separated from the Bay of Bengal by a 60 km long narrow strip of marshy islands and sand-flats.
So, if you are visiting as a tourist or as a budding photographer, these important tourist office addresses might help you reach wherever you wish to go:
Wildlife office:
Chief Wildlife Warden, Prakruti Bhawan, BDA Apartment, 5th Floor, Nilakantha Nagar, Nayapally, Bhubaneswar, Tel: 0674-2564587, 2565016
DFO, Chilka Wildlife Division:
Balugaon PO, Khurda District, Tel: 06756-251125, Cell: 09437133489
Tourist Office:
Govt of Odisha, Baghra Road, Near Pvt Bus Stand, Baripada, Tel: 06792-252710
Bird Photography in Chilka: Best Time to Visit
Chilka is probably the most prominent place that attracts thousands of tourists and birdwatchers each year. October to February is the Chilka lake's best time to visit when migratory birds arrive.
You should avoid the monsoon season of July to August where birdwatching is rare, in addition to the nearby areas getting dangerous by the risk of rising levels of water.
If you are passionate about bird or wildlife photography, then you surely wouldn't want to miss clicking the wonderful sight of over five hundred new bird species that can be spotted in this sanctuary each year.
Chilka lake presents to its visitors a magnificent exhibit of colorful avian charms in a thousand diverse hues presented by over 160 species of birds in the peak season between November and February.
Birdwatching in Chilka
Over the years, the Chilka lake has gained a popular status amongst bird photography lovers and nature admirers in general.
This wildlife sanctuary is home to various nomadic and local birds such as Spoonbill, Brahminy Duck, Flamingo, White Bellied Sea Eagle, Wigeon, Pintail, Shoveller, Spot-billed Pelican, Bar-headed Goose, Open-billed Stork, Ibis, Stilt, Heron, Brahminy Kite ,Egret, Avocet, Gull, Tern and King Fisher and more.
These include migratory birds flying great distances from Iran, Central Asia and Siberia.
Apart from inhabitants and migrant birds, Chilka Wildlife Sanctuary is also a habitat for Blackbuck, Spotted Deer, Golden Jackals, Hyenas and many more.
Rich in aquatic wildlife, this sanctuary houses Dolphin, Prawn, Crab, Limbless Lizard, and Crustaceans.
Also, more than 225 species of fish and other aquatic life is found here.
Flora and Fauna
The Chilka lake freshwater is one of a kind and is certainly the numerous species' most favorable type of water; the main reason why they migrate to this island every year.
Chilka lake is the most popular destination for eco-tourism in Odissa. Apart from having the presence of exotic wildlife in the area, the lake and its vicinity hold a rich floral system with an abundance of aquatic as well as non-aquatic plants.
The recent environmental survey revealed the presence of more than 710 species of plants in and around the Chilka lake.
Such a huge variety of flora and fauna including numerous rare and endangered species of all kinds has been the main reason for considering Chilka lake as a Ramsar site.
Reaching Chilka Lake Bird Sanctuary
Chilka is situated near Bhubaneswar which is well connected by Air, Rail, and Road. These three travel means can be utilized in order to reach the bird-loving destination.
By Air:
The nearest airport for reaching Chilka is Bhubaneswar which is approximately 90 kms away from the bird's sanctuary.
The distance can be covered in a local taxi that would take 3 hours and a fare of around Rs. 3000/-.
By Rail:
Traveling by rail is probably the easiest way to reach Chilka. The nearest rail junction is Balugaon which is 5 kms away from Chilka. The railways is well connected to metropolitans like Delhi, Mumbai, Kolkata, Chennai, and Amritsar. It is a 20 mins distance that can be further covered by road using a cab or an auto.
By Road:
If you prefer driving your own car, then you can consider direct connecting road points at the corners of Chilka. Including the NH5, Chilka Lake Bird Sanctuary is well connected to Puri, Behrampore, Bhubaneshwar Cuttack, Hyderabad and Chennai via road network.
Accommodation and Food in Chilka
The more nature struck a place is, the less lavish it gets with its modern facilities. Chilka lake islands do not really accommodate any lavish hotels but there are stay options located on the shore of the lagoon.
Most of these hotels are functioned by Orissa Tourism Development Corporation (OTDC) and are termed as Panthanivas Hotels.
The stay options here are on the shore of the lagoon. Most of these are run by the OTDC and are named the Panthanivas hotels.
They are located in -
Rambha (Tel: 06810- 278346; Tariff: ₹ 800–2,900),
Satpada (Tel: 06752-262077; Tariff: ₹ 550– 2,050) and
Barkul areas near the Chilka lake (Tel: 06756- 257488, 257388; Tariff: ₹ 900–2,400).
The cooking style is typically Oriya, with gravy and plenty of spices. All the Panthanivas hotels have reputable restaurants that serve three proper meals.
The tariff per room starts at Rs.550/- and can extend up to Rs. 2900/-.
None of the islands in Chilika have accommodation options, except for Brahmapura Island, which has a basic Forest Rest House (Balugaon Tel: 06756-251125; Tariff: ₹ 500–2,050).
Visitors must bring their own food.
Chilka is known for its seafood including crabs, prawns, Pomfret, and lobsters.
Places of Interest In and Around Chilka Lake Bird Sanctuary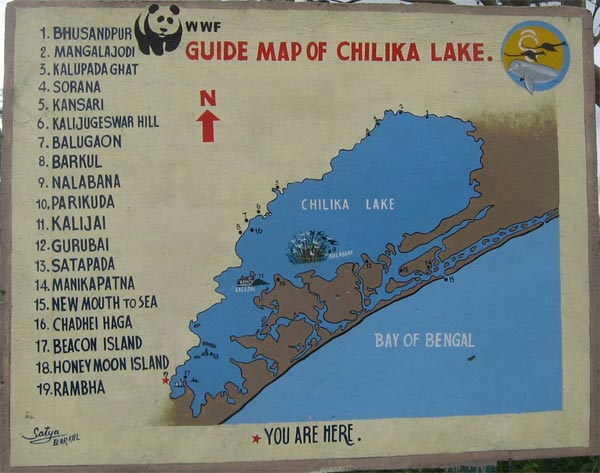 Chilka is best explored by boat and most of the popular destinations within the lagoon can be covered in a day. However, an overnight stay is recommended. It is possible to hire boats from Odisha Tourism Development Corporation (OTDC).
Guides can be hired from any of the entry points: Barkul, Satpada, Rambha, and Balugaon. Many of them are boatmen-cum-guides.
Barkul is the most convenient base for exploring Chilika.
All tourists congregate here, however, those looking for solitude head for Rambha. Balugaon city and railhead are also close by (6km and 8km respectively). Public transport is available here. There are many private boats as well.
Speedboat fee ₹ 1,500 per hour (10-seater).
Ferry services are run by the Inland Water Transport Department, from the mainland to the inhabited islands.
A visit to Nalabana and Kalijai may cost about ₹ 3,000 per hour (in a 10-seater)
Nalabana Bird Sanctuary
A dense habitat of thousands of resident and migratory birds, Nalabana island is ideal for bird-watching.
Visitors are, however, prohibited from alighting on the island, and have to catch sights of birds from the boat. While the long-legged species like flamingoes, herons, and storks forage in the shallow waters and mud flats, the short ones can be seen resting on twigs.
Different species of ducks, including Brahminy ducks, geese, pintails, and teals can be spotted bobbing on the water.
Birdwatching at Brahmapura
This is the ideal spot for photographers who travel to Chilka every year just to capture the exotic species of birds. The 45-minute boat ride to Brahmapura Island from Satpada is fringed with casuarina groves and is an ideal place to relax and go birdwatching. It's bordered by the lagoon on one side and the Bay of Bengal on the other.
Dolphin and Turtle Spotting at Satpada
Satpada is an ideal place to spot the endangered Irrawaddy dolphins. It is an entry point to the lagoon on the eastern side and can be reached by road from Puri.
One can also go to Satpada by boat from Barkul and Rambha, but it takes about 3.5 hours one way. These charming creatures can be spotted, periodically, in other parts of the lagoon as well (over 100 dolphins are estimated to reside in the lagoon), the largest concentration is at Satpada.
Well known for being a mass nesting site for Olive Ridley Turtles, the stretch of sandy beach along the mouth of the Ruskhikulya River is about 2 km from NH5 and about 15km from Rambha.
If you are visiting chilka during February or March, you can check with the DFO if the turtles have arrived. If they have, then surely plan a trip to the beach at night.
Barkul
Barakul is an informative destination for bird lovers and nature admirers. The Wetland Training and Research Centre at Barkul is surely worth visiting for participating in conservation activities or being part of the bird census.
Tourist Corner
Tourists and photographers get to treat themselves to some beautiful attractions near the Chilka lake.
Govt. College of Arts & Craft - The art gallery present in the Govt. College of Arts has some beautiful paintings reflecting Orissa's culture. Located in Khallikote which is about 25 km from Balugaon and 12 km from Rambha, this art gallery is located in the palace of the erstwhile king of Khallikote. Surrounded on all sides by lush mountains, it witnesses some beautiful views and depicts many famous Indian contemporary painters as its alumni.
Nirmaljhara - Built in 1676, its stream is illuminated by many temples. If you are adventurous, you can take a bath in one of the ponds here. It is a perennial stream that has been channeled into different ponds and is situated in Khallikote, very close to the art college.
Banapur - Banapur area is best known for hang-outs and shopping including a famous Bhagawati Temple and markets situated right there.
Narayani - About 15 km from Balugaon, it has a temple in the scenic surroundings of the Eastern Ghats. Oriya people consider it to be very lucky if Kalijai Temple, Bhagwati Temple, and Narayani temple are visited on the same day.
Puri - Most tourists travel from Puri to Chilka lake for the famous Rath Yatra at Jagannath Temple which is held in the month of Asadh (June & July) and the chariot of Lord Jagannath is carried for public display. Located in the Bay of Bengal, Puri is one of the holiest places in India and is endowed with attractive sea beaches.
The Chilka Lake Sanctuary is a great picnic spot. However, the ones who really tend to capture every moment are the bird photographers.
Visitors and tourist come to spend leisure moments and enjoy the marine wildlife. However, as Safari is not available, you can enjoy the impressive aquatic creatures in the lake by boat. A boating experience is fun and can be experienced throughout the year during sunrise to sunset.
So, get that camera ready and hop on the boat to capture numerous species of birds and over 700 variety of flora around the Chilika Lake.
You surely can't be missing this site for your picture folder!
Cover image source!