Why should I use rechargeable batteries?
Most of the modern-day gadgets guzzle battery power voraciously. Too much usage of batteries means too much dumping of the (used) batteries, and in case of improper recycling, they cause environmental threats! That and the additional cost of restocking your battery kit regularly is another uneconomical hassle.
Hence rechargeable batteries!
It is really amazing how all of us are trying to make the world a better, safer place. The new compassionate us are concerned about the environment in the utmost regard and that concern begins with using something as small as batteries in the best possible way.
Batteries have one of the highest application in the sphere of electronics and electrical appliances. One such sphere is photography. The art of capturing moments and stances highly relies on batteries. And so, photographers have now resorted to using rechargeable batteries.
For all the budding photography artists, we bring an analysis on rechargeable batteries and the best ones available in the market. Keep reading!
Types of Batteries for Cameras
Almost all digital cameras accept any standard AA rechargeable battery. But there are options in the kind of AA batteries like disposable alkaline batteries, rechargeable NiMH batteries, and even battery packs that get your camera snapping photographs.
Let's discuss this more vividly!
Alkaline Batteries
These are traditional batteries which (usually) have a pretty short life span in digital cameras. It is a better idea to replace them and instead use the rechargeable cells.
Lithium Batteries
Comparatively, the lithium batteries tend to last longer than the other battery types. An advantage that gives the lithium cells an upper hand is its ability to handle cold weather better.
Rechargeable Batteries
These are a type of electrical battery that can be recharged a number of times. They can accumulate and store energy via a reversible electrochemical reaction. Rechargeable cells cost a little more than the primary batteries but they have a considerably low total cost of ownership and environment impact.
While buying the rechargeable batteries, opt for the nickel metal-hydride (NiMH) rechargeable batteries because they provide more power, are harmless to the environment, and offer several technical leverages over other battery types.
You can also pick the lithium-ion (Li-Ion) rechargeable batteries. They usually last for a couple of hundred shots.
Battery Pack
A few digital cameras can be fitted with a supplement battery pack. The add-on battery pack sits under the camera body to hold two more batteries, thereby adding to the length of your batteries' life.
AA and AAA Rechargeable Batteries
Every year over billions of batteries are manufactured and sold worldwide. Most of these are alkaline batteries which are discarded after a single use. The chemicals, such as nickel and cadmium present in these non-rechargeable batteries are extremely toxic to the environment, causing soil and water pollution which in turn is harmful to humans and wildlife.
Fortunately, the leaders and visionaries of the world have taken note of this toxic behaviour and introduced the concept of environmental-friendly batteries. The ongoing advances in rechargeable batteries and battery chargers have been able to largely replace these single-use alkaline batteries.
Rechargeable batteries have higher capacity and are definitely environment-friendly and can be referred to as "green batteries." They come in various sizes and shapes, ranging from button cells to megawatt systems. AA and AAA rechargeable batteries are the most common battery sizes used by consumers today.
There are quite many types of rechargeable batteries available in the markets which pose a challenge to the consumers as to which ones to choose. Rechargeable batteries use different combinations of electrode materials and electrolytes, including lithium ion (Li-ion), nickel cadmium (NiCd), lead-acid, nickel metal hydride (NiMH), and lithium-ion polymer (Li-ion polymer).
Of these, the best rechargeable batteries are the "low self-discharge" nickel metal hydride (NiMH) cells.
The rechargeable NiMH batteries come fully charged like the alkaline batteries and unlike the regular NiMH rechargeable, these smart babies can hold their charge for over months!
And because of their capacity to hold the charge for long periods, these rechargeable NiMH batteries are suitable for low drain-devices, such as remote controls and torches as well as high-drain electronic devices like digital cameras.
Having said that, here are the top rechargeable batteries for photography So, here are a few picks in the category of AA and AAA rechargeable batteries.
Top Five AA and AAA Rechargeable Batteries for Photographers
Below is a list of the top best AA and AAA rechargeable batteries available in the market. These rechargeable batteries fit almost all the digital cameras perfectly. Check out and choose the best!
ENELOOP XX (2500 MAH) RECHARGEABLE AA BATTERY
Eneloop XX rated at 2500mAH is considered to be the best AA rechargeable cell. The Eneloop Pro is a high capacity version of the standard Eneloop cell. However, the Pro is beat by the regular Eneloop in the number of times charged area, i.e. when the standard Eneloop can be charged for 2100 times, the Eneloop XX can be charged only 500 times.
On another note, Eneloop XX battery performs at least 5% quicker than the other rechargeable batteries with a final time of 692 seconds. The Eneloop XX is the only battery that has 75th flash still posting times under 11 seconds, with a total time of 692.6 seconds. Perhaps this is the reason for its insane popularity as a rechargeable battery.
The only factor that can hold you back from buying this amazing rechargeable cell is the cost. The modest 3-5% performance boost comes at a hefty premium. So, you will have to decide if the additional speed is worth the extra cost.
Important features:
First Shot Recycle Time: 6.6 seconds
75th Shot Recycle Time: 10.8 seconds
Average Recycle Time: 9.11 seconds
Total Time to Fire 75 Shots: 692.6 seconds
SONY CYCLE ENERGY (2500 MAH) RECHARGEABLE AA BATTERY
Coming in strong second, we have the SONY CYCLE ENERGY Rechargeable rated at 2300mAH. In performance, this battery shows almost identical scores with Duracell StayCharged. Sony just manages to edge out another popular rechargeable battery, the Duracell with 707 seconds as opposed to 708 seconds. But this is only around 1% better than the Powerex cells.
Important features:
First Shot Recycle Time: 6.9 seconds
75th Shot Recycle Time: 11.0 seconds
Average Recycle Time: 9.31 seconds
Total Time to Fire 75 Shots: 707.4 seconds
DURACELL STAY CHARGED (2000 MAH) RECHARGEABLE AA BATTERY
Next, we have the Duracell Stay Charged (2000 mAh) which is similar to the STANDARD ENELOOP (2000 MAH) in performance. The Duracell's early 6.6 seconds recycle times are quick and the 75th shot matched with Powerex's result. The overall duration of Duracell for 75 shots was 708.5 seconds. Not bad!
Important features:
First Shot Recycle Time: 6.6 seconds
75th Shot Recycle Time: 11.1 seconds
Average Recycle Time: 9.32 seconds
Total Time to Fire 75 Shots: 708.5 seconds
POWEREX (2700MAH) RECHARGEABLE AA BATTERY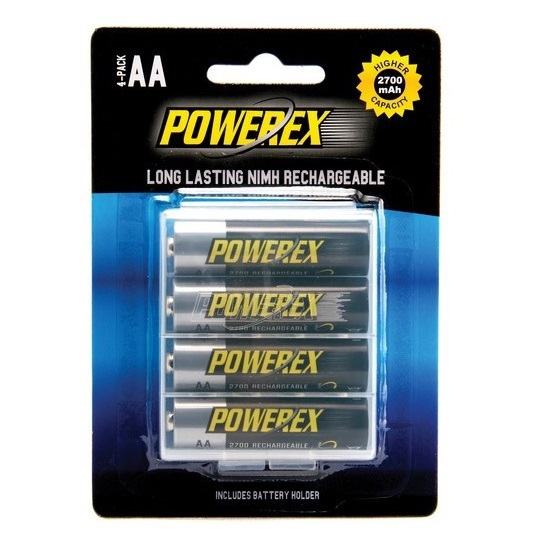 The POWEREX (2700MAH) has the slowest early recycle times with the first shot starting at 7 seconds. However, considering the overall performance, it runs the race pretty well and yields a final 75 shot time of just over 715 seconds.
Powerex is a much-hyped choice of green batteries with good mAh rating but the performance hardly validates the rating. Evidently, there is only 1% difference in final times when compared to the Standard Eneloop (2000mAh).
But in the matter of high battery capacity, the Powerex does have the highest capacity at 2700mAh which assures that beyond 75 flashes, this battery would sustain slightly better than the standard 2000mAh rechargeable ones.
Important features:
First Shot Recycle Time: 7.0 seconds
75th Shot Recycle Time: 11.0 seconds
Average Recycle Time: 9.41 seconds
Total Time to Fire 75 Shots: 715.2 seconds
STANDARD ENELOOP (2000 MAH) RECHARGEABLE BATTERY
The STANDARD ENELOOP (2000 MAH) can be recharged up to 2100 times(!) and can retain their charge for an incredibly long period of time. Panasonic's Eneloop shows off incredibly fast early recycle times starting at 6.5 seconds and then dropping to 11.3 seconds by the 75th shot. Total time taken by Eneloop to fire 75 full power shots was a swift 723 seconds.
Important features:
First Shot Recycle Time: 6.5 seconds
75th Shot Recycle Time: 11.3 seconds
Average Recycle Time: 9.51 seconds
Total Time to Fire 75 Shots: 723 seconds
Now it isn't mandatory that you choose from the mentioned AA and AAA rechargeable batteries. You can go beyond the list and explore the whole rechargeable battery market.
The production course of batteries is a high energy intensive process wherein many types of heavy metals are used. Hence it totally makes sense to switch to rechargeable batteries. Again, if you use the rechargeable batteries than the self-discharge rate is significant. For example, the self-discharge rate of NiMH rechargeable batteries is 30% per month at room temperature. In the same scenario, a low-discharge NiMH rechargeable cell like Eneloop loses about 2% of charge per year!
Now you may counter the low-discharge analogy by saying that the non-rechargeable alkaline batteries have a self-discharge rate of 25 per year, but they are hazardous to the environment.
Spend a little, save on battery lives and contribute to Mother Earth's well-being – else for what shall you use that fancy camera?