While for many, riding a motorcycle comprises of 'The Dream' any motorcycle enthusiast would call taking a cross country motorcycle trip 'The Dream'. But again, not all get a chance to follow through with their dream. It's safe to say that short sunset rides or day trips could not provide you with the same satiation level as cross-country bike rides. Which is why many riders aspire to ride across hundreds and thousands of kilometers across the country and sometimes across countries. But then for most of us, these rides don't actually materialize and because of lack of time, this is the number 1, most common, reason. Getting caught up in daily routines, jobs and life applies to everyone in general but that shouldn't be a reason to give up 'The Dream'. That is where planning and making small efforts to make your dream a reality begins.
Ideally, if you're thinking of attempting a cross country trip, you'd want a minimum of two weeks at hand to make the trip count – keep in mind how your stress levels are ebbed away on your short rides, and it should be convincing enough to take time out for your trip! The biggest thing you'll require is Time: Riding a bike can be more taxing physically and mentally than riding a car, so you're going to want to take it easy and make the best use of your time.
Before you find a ride cross country, bike astride, feeling pleased about travelling the vast stretches of illustrious landscapes on your two wheels, know that you are going to have to chalk out a lot of the details beforehand pertaining to a cross-country excursion, handling any difficulties that show up along the way, but all the while still having fun on your journey. Don't worry, making time to process natural splendor on your motorbike is a worthy endeavor and you should definitely make the time for it. Here's what you can do to plan and work towards your 'Dream' ride.
Know More Here:
Expectations and Planning a Cross Country Motorcycle Trip
Riding cross country is a whole different ball game compared to your prior riding experiences. Spending day after day in the saddle, navigating unfamiliar terrains, riding mile after mile in varying weather and temperature conditions don't make up for your casual pleasant weekend rides.
"Riding a bike is like an art, something you do because you feel something inside"
– Valentino Rossi
If you're seriously considering the cross-country bike trip then below are a few questions to ask yourself:
What's your Why? Why do you want to do this ride?
Do you own a bike / will you be riding your own bike, or will you be borrowing or renting one?
What route will you be taking?
How long a cross-country motorcycle trip are you taking?
Your plan (and the plan for the bike) to get back home?
What to carry on the trip?
Making a trip across the country is an adventurous and a fantastic experience, one that will leave you with lasting memories and provide you with a whole lot of stories to share with the generations to come. It's a distinctive chance to enjoy cultures, sights, and people in a close and personal manner. But, to make the most of your trip, you're going to want to plan cross country motorcycle trip meticulously, execute it to the T and be prepared for any surprises that might come along the way.
Cross Country Motorcycle Trip - What and How to plan
Here are listed a few of the major things you should consider before taking your cross country motorcycle trip.
1. Road Trip - Planning and Things To Do
The first thing on the 'To Do' List is to create a list – A list of priorities. Considering undertaking a cross country motorcycle trip means you might have certain things in your head that you would want to do, for instance, the kind of roads you would like to ride, the people you want to meet along the way, the type of landscapes you would like to experience, places you would like to see and visit, what you'd like to do at those places etc. Take time out to sit and brainstorm about all these potential goals you have from the trip and create a list of the five most important things from those. Now, keeping these in mind, plot them out onto the map that you will be using during your trip. Doing so will help you establish a workable plan and a reference framework for your trip.
Make sure to also factor in your return trip. After spending days on end on the road, the idea of riding the same amount of return miles might not be such an appealing prospect, as well as there might not be necessarily the time to accomplish it. Therefore, many riders tend to arrange in advance for their bikes to be shipped home from their last point and they themselves return home via the nearest airport. Both ways it's something that needs to be thought over and arrangements made in advance for such case.
2. Mapping and Route Planning for Places to Visit
Young riders pick a destination and go. Old riders pick a direction and go.
As we mentioned above, the highest priority goals marked on the map will be the major deciding factors for the route of your cross-country trip. Have a clear planning of your day/time when you reach your destination, this will help you save time while on the ride. Also, some riders prefer to have an overnight location identified and have advance hotel reservations in place, keeping such a safe option might not allow any flexibility to explore any unexpected interesting points that might present themselves along the way. A good strategy would be to start each day by heading out early and call it a day by around 3:00 – 4:00 PM so you have enough time at hand to find a place (if not planned/booked already) and also discover any interesting spots/locations at your destination.
3. Considering the Weather Conditions for your ride
A great way to avoiding unnecessary roadside challenges is planning your trip during times when the weather is at its most agreeable. This would, of course, vary for individual routes and locations, but riding in good weather conditions and mild climates, will not only make for comfortable riding and a pleasant trip in totality but will also reduce the wear and tear on your bike. Yes, such strict conditional planning could restrict you from having an adventure but a loose understanding of when to travel where will help you to make smart decisions on the road.
4. Prepping for the Trip – You and the Bike
After deciding your priority pointers for the trip, you need to prepare yourself and your bike, as you'll be counting on it for the miles and miles that you will be riding on it. To have the best motorcycle to ride cross country means your bike needs to be at its best before making the trip – this means new tires, oil change, brakes and cables to be tested, battery check-up, everything should be properly serviced. When getting your bike tuned, make sure to inform the tech that your bike needs to last at least 4000 miles – this bit of information may cause changes in the tire and oil suggestions that they'll offer.
Consider all the unexpected possibilities of something going wrong in the middle of anywhere, since you will be traversing unknown territories, brace yourself mentally to be prepared for pretty much anything. So spend some time to learn about your bike's basic troubleshooting and repair work. Carry the spares that are likely to fail during the ride (spark plugs, fuse, engine oil, clutch cables, tire-tubes etc.), and prior knowledge of how to replace them could come in very handy.
You can also arrange for any bike services with a dealer along the route, but make sure you set this up in advance. This will help you keep your bike in good shape and you won't have to face the problem of having a broken down bike midway of nowhere.
5. Consider Riding with a friend or group on your Cross-Country Ride
Look at riding with a companion, one at the minimum and 2 – 3 at the most. You don't want to be adding too many people to your posse since it makes managing multiple riders' priorities and including it all into one trip quite burdensome and difficult. Riding with known people or with whom you've ridden before, should ease up on the difficulty level. Otherwise, even managing to ride with people who have compatible riding styles and similar touring priorities and personalities as your own will be especially helpful too.
The importance of a cell phone and credit cards too cannot be stressed enough. Since you might not get cell coverage in some locations, you could invest in (or borrow) a portable CB radio, in times of emergencies when you need to contact for help if you are riding alone and not riding in well known (and well frequented) roads.
6. Documentation and Paper Work
When traveling across different states/borders, it's advisable to familiarize yourself with any regulations regarding riding and taking your vehicle across. Rules of the road could vary drastically from one place to the other. Even the insurance coverage requirements could be different. Once you have looked up the minimum requirements of the states you would be covering, check your motorcycle insurance policy if it bears at least the minimum required for those places where you want to visit. Consider buying an additional insurance policy that includes not just liability insurance but also collision and gives comprehensive coverage.
Also, keep your passport, visas, and vehicle-related papers securely with you at all times. Keep a copy of your papers in your luggage and also store them digitally in your email or online folders.
7. Living Cheap
This one goes without saying unless you are rich! Opting for overnight accommodations can run up quite a bill and especially if you are hitting some of the touristy hot-spots, it could up your budget by quite a bit. There is an option of camping out, but that comes with the task of carrying additional gear, hunting out decent locations to set camp and hoping for dry weather. For an extended trip, small hotels and motels are your safest bet and some bed-n-breakfast places are an ideal choice as well. Smaller places of the like are more willing to negotiate on the price especially if you're going to be leaving the place early morning. Also, don't settle for the first hotel you see when you ride into town, as is a common biker mistake after being on the road for like 200 miles…the places on the lip of a town tend to be more expensive and also fill up fast. Instead, try and find a place on the edge of the town in the direction you will be heading out the next day. That way, you'll be able to beat traffic and exit to the freeways more peacefully.
Livingit Tip-
Don't hesitate to ask for special discounts. Smaller hotels do offer discounts for members of any select enthusiast groups or to military veterans….it couldn't hurt to inquire either way.
8. What to Carry
This is a tricky line to follow since bikers a few rides old will tend to skimp out in the packing department while less seasoned motorcycle travelers will tend to over – pack. The golden rule here is to carry what you need, nothing less and nothing more.
To make sure you're properly equipped, we've made a list of the basic essentials you would need to carry:
Tool Kit
Extra Tire & Tube
Personal Belongings (Clothes – Leaving the civilized world means there's no shame in repeating outfits or wearing them for more than a day or two at a stretch)
First Aid Kit
Maps
GPS Units
Camping Equipment (Optional if you are not staying at commercial places)
Camera for the photographer in you, you may also use your phone if that's okay with you.
Powerbank and a Flashlight with extra Batteries (Phone torch is an option but might not be enough sometimes)
Chargers for all your electronic devices
Hydration Bag or a Water bottle (min 2-litre capacity) and snacks (light weighted)
There are a whole lot of guides you will find out there that would give you specific instructions on what to pack and how to pack, which could be a bit overwhelming. To stay on the safe side, carry your basics and follow the golden rules and you should be alright. Traveling with a companion could also reduce or divide the load, instead of duplicating all things, a lighter load is always rewarding.
Packing light for long distance motorcycle touring can be difficult though since even the most predicted of weather conditions could betray you in the unknown terrains. If you have friends that you will meet along your cross country motorcycle routes you could always mail few items ahead of time that you think you might require. Another way to keeping it light is mailing things back home when you're done using them. Expect to be doing laundry when you are resting to cycle clothing articles. And if you feel you've forgotten anything back at home, there are always places you can stop and buy them. Many riders also prefer to buy items that can be 'use and throw' this way you can avoid carrying extra.
If you have hard bags, it's a blessing in disguise if you're looking to do a bit of exploring or hiking. It would make sense, in that case, to have a daypack packed with essentials such as a torch/flashlight, water, pocket knife, lighter, a couple of snacks and other lightweight stuff to make it easy to get off your bike to wander around for a bit.
Handy Tip:
If you are looking to camp out at some time of the trip, carry a lightweight hammock, it occupies little space and works great when strung between two trees to spend the night beneath the stars. Pack a light but warm sleeping bag, which could serve as double duty – sleep in it if it's cold and on it if it's warm.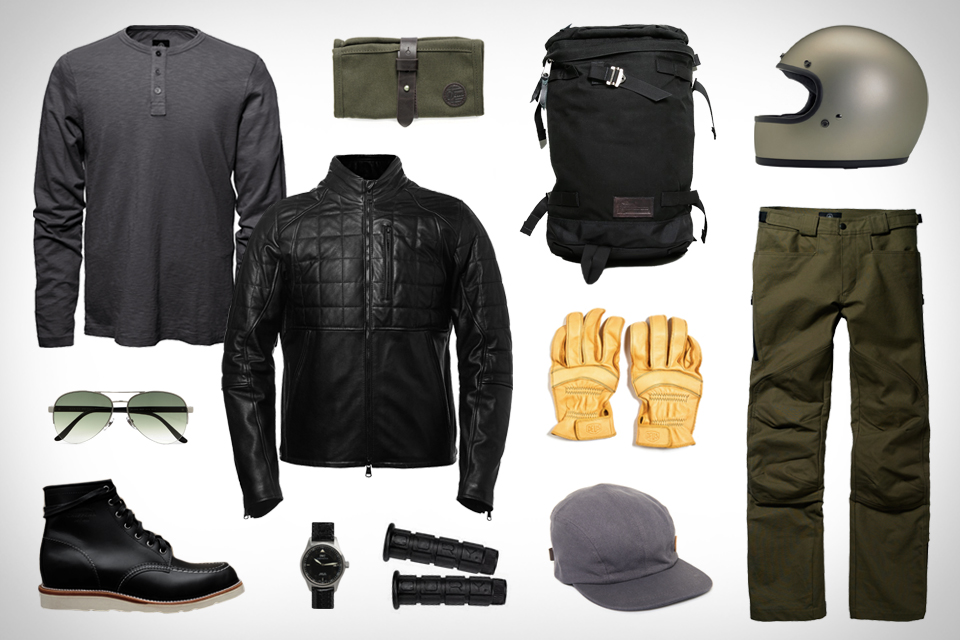 9. Scheduling and Allotment of Time
It's necessary to also factor in the time you will be taking to travel from point to point. This could be dependent on factors such as the number of stops you make, the type and conditions of the roads you'll be taking and the routes that you're following. Having said that time spent on your motorcycle will be an experience for all five of your senses thereby creating some evocative and lasting memories in the bargain, you don't want to be rushing through that experience because of a hurried schedule to catch up to. Give yourself enough space to enjoy the journey and not make it all about a checklist of points you've accomplished riding past.
For better and more virgin experiences, it's always better to take the back roads or roads 'less traveled'. This will also take more time than traveling on the usual freeways and highways. Also, considering your covering some major distances you're bound to run into some bad weather conditions or technical difficulty of some sorts, and in times when you get stuck, a leisurely schedule makes it mentally easier to call it a day and wait it out. The trip is about the journey and not the destination, make the time to enjoy it.
10. Managing the Ride
When do plans ever pan out without a few unexpected bumps in the middle? You could have done the best of jobs scheduling and mapping and prepping for a ride but if something unexpected does come along its best to stay calm and take a decision that's in the best interests and not just in order to keep up with the plan. Travelling cross country with a bunch of people can be stressful, so it's vital that there's a free flow of communication between the riding companions to keep arguments and disagreements at bay and that everyone is adjusting to a flexible itinerary to ensure a pleasant and enjoyable trip.
Travelling solo will only turn stressful if you fixate on reaching destinations to upkeep with the plan and not allowing for any flexibility even in times of unfeasible conditions. Plot out your schedule for a leisurely place and arrange to have checked in with someone back home at the end of the day who knows where you'll be riding every day.
11. Stops
Apart from your overnight rest stops, you'll also be making frequent stops to give it a rest, to fill up on fuel, or just to check the route on GPS. You will wind up in locations where Google Maps isn't going to be able to provide you places nearby and their operational hours, so it's a good option to call in ahead to play it safe, especially if you're flying solo. There's also a fat chance of pushing your tank limits with no sign of a gas station in sight, it's advisable to carry a spare tank of gas if you have the capacity to do so.
Read up on ride reviews and reports, take information and recommendations from friends or fellow riders about different restaurants and bars that would be near to your stopovers and destinations. You could just wing it and skip this step altogether, but being aware of what to expect helps prepare a bit better leading to a complete experience.
Additional 20 Tips for Cross Country Motorcycle Trip
Looking for the best cross country motorcycle? When choosing a bike for a cross-country trip, remember, a more expensive or a bigger bike doesn't automatically qualify for a more fun trip.
Prepare a customized map for yourself to carry with you. The Harley Davidson Ride Planner is an awesome map service (in the USA) which allows you to find events, points of interest, dealers, hotels, and restaurants etc. along with your route. There are also some free map services available online, some in the form of apps too that you can download on your phone, but in case you hit up low connectivity areas, it's always safer to have a hard copy backup.
You can also download some travel apps onto your phone which will find you better rates and great discounts to help cinch that hole in your pocket. A downside is you might not know the actual situation of the hotel, but you can rely on reviews – anything above three stars should be a safe and a doable option. Another good option is weather apps so you know what you're going to be heading into.
Aim for a good – not heavy - breakfast to start off the day. Many of the smaller hotels or motels with buffet bars and breakfasts are a good place to stock up on snacks like muffins, fruit, granola bars and the all-time go to – coffee. These all are easily portable on your trip and act as good buffer snacks while on the road.
Save the biggest meal of the day for the nights, and only consume alcohol if you're not going to be getting back onto your bike anytime soon – again the night makes for a suitable choice.
Take short breaks and stops to break up your day into bits and to refuel not only your bike but yourself. Make sure you have a regular intake of snacks and enough water. Even though cool conditions, you could get dehydrated, if you don't drink plenty of water.
Speaking of weather conditions, if your trip is during the warmer months invest in a cooling vest and if it's during the cooler months try out a heated vest. This way you've prepped yourself for the temperature appropriately.
Budget your trip wisely. You can always look up other rider's experiences online, ask friends or fellow bikers who've made the similar trip or guestimate on how much would a cross country motorcycle trip cost and plan for it accordingly. Also, carry sufficient cash on your person, just in case, since not all places might accept card payments.
Document your trip by taking lots of pictures, and go ahead use social media to flaunt the amazing time you are having. Not only will it help share your experience of the trip in the present but will make for good memorabilia sometime in the future when you can no longer take a cross country motorbike trip. Livingit is a great place to share your ride experiences with others.
Embrace all the 'local-ness' you can while on your trip. Brush up your communication skills and be open to meet and talk with people – it'll really make for a genuine cultural interaction. You'll also get to engage and learn about the local traditions and could even be a part of any upcoming event.
Be particularly careful when riding on/near/over gravel. If you do not feel comfortable going at the specified speed limit, ride at or just below it since you wouldn't want to wreck your bike going at speeds designed keeping four-wheeler vehicles in mind.
Bear in mind to enter curves carefully, especially in the case of blind curves, entering too fast could lead to a lot of trouble.
While astride the bike, always maintain the policy of ATGATT – All the Gear, All the Time, since the safety of riding gear couldn't be stressed enough.
If you have even the slightest of long hair, then know that flyaway hair is most certainly going to make its way out of your helmet and onto your face feeling like tiny knives stabbing you when you're riding at highway speeds. A good way to avoid this is to place a stretchy headband over the frontline of your hair and forehead and then put on your helmet.
Who doesn't want to keep their hearing intact? Yes, so invest in a good pair of silicone earplugs to wear while riding, because subjecting your ears to the force of the wind to no end can be cruel, and it could get really loud even inside the helmet.
If you're feeling exhausted, don't ride or put it off for a bit. Try perking yourself up with some coffee, maybe even accompany it with a good meal. Whatever be the case, do not take the wheel if you note a degradation in your attention span, since a slow reaction time and highway speeds are not a good combination.
Straight roads can get a bit boring after an especially long stretch. Try and mix it up a bit and take roads that twist and wind a bit, they'll help you focus, stay sharp and pay attention to the road and provide a break from monotony.
Carry a backup ID, some cash etc. and stash them in some bags, somewhere secure and nowhere on your person, so that if you lose your main wallet, you have something to fall back on.
Charge your electronic devices whenever you stopover for the nights. Also, it's useful to carry travel portable chargers, so that you're never in a fix if say your phone runs out of power whilst on the road, and there are high chances of that happening if you're using the GPS facilities or any other mapping apps on your phone.
Keep a sharp look-out for squirrels, not just while on the road, but also when you're camping out, or you just might find some of your stuff scuttling away on four furry feet before you can gather your wits to catch it.
Final Thoughts
Realize that this time that you have is not permanent, so you have to make the best of it. There's only so often that you get a chunk of time to spend riding along vast stretches of roads. True freedom comes from being able to do whatever you like, so chuck routines out of the window for a bit – explore whats interesting, talk to new people, make friends…..
You are going to want to listen to music and it's good too, as it could help keep you alert. But don't resort to music whenever you feel bored, look around you, soak up the environment, think and reflect, use the chance to grow a bit maybe, you have a lot of free time to turn stones over and re-examine things, possibly chart out a new course for the future, turn over a new leaf…anything…the canvas to think is as vast as the distances your wheels are covering. Let your mind paint it with thoughts, don't allow yourself to get bored. The end of the day you'll check in with people back home, catch up on events or interactions, but the day and the ride is you, you and you, you'll be amazed at how captivating riding can be for the mind.
It's not like stuff isn't going to happen on your cross country motorcycle trip routes, that at some point of time your plan isn't going to break apart or that you're not going to face difficulty or disappointment but don't let that stuff define who you are or where you're going. You're going to return with a story, and that story is going to be a reflection on how you received the trip when it was happening to you.
"Sometimes you find yourself in the middle of nowhere and
sometimes in the middle of nowhere you find yourself."
Cover Source