Gujarat undoubtedly is one of the most important and prominent business hubs in the country. From gems and jewelry to gas and power, from biotech and pharma to engineering and auto, from information technology to food and agriculture, the state offers that much-needed boost to all these sectors. Apart from being an economical centre, the state also encompasses a lot of hiking destinations which is what attracts the hiking enthusiasts from far and wide.
The hiking destinations in the state are beautiful and allow individuals to hike, relax and rejuvenate amidst the vicinity of nature. If you too are planning your next hiking trip, Gujarat might just be your ideal option. The below-mentioned places are ideal for trekking near Ahmadabad and for that serene weekend getaway.
Table of Contents
Trekking near Ahmedabad: 7 Destinations for Trekking Enthusiasts
Trekking is definitely one of the most popular activities to embark on, which leads to Ahmedabad receiving a whole lot of tourists from in and around the state every year. Numerous trekking organizers in Ahmedabad will be readily available to provide transport to the starting point of treks mentioned.
Saputara
400 kilometres from Ahmedabad
Time Taken to reach Saputara from Ahmedabad: 10 hours (approx.)
Best time to visit: September to February
Saputura, is one of the most famous places in Gujarat and perhaps the only hill station to visit in the state quite different from any other. Saputara is nestled amidst the tranquil Sahyadris and offers relief from the hot and relatively uncomfortable west Indian climate. Right after the very first shower of the season, the entire area becomes even more stunning with greenery everywhere for as far as the eye can see.
Surrounded by the rolling hills on all sides, the hill station is breathtakingly beautiful. The excellent slopes and lakes will leave you mesmerized and is perfect for a morning trek. Owing to its natural beauty and much more that it has to offer, Saputura is one of the most popular places to visit in Gujarat for trekking.
Saputura is also popular for its festivals and rich tribal heritage. You can visit the museum which exhibits the culture of the local tribe called Danges.
The main attractions here are the Sunrise point, Hatgad Fort, The Ropeway, Boating in Lake Saputara and the stunning Artist Village. Any trekking camp in Saputara will organize a spectacular trip for you.
Here are some more Indian treks to check out: 20 Best Treks in India: Venture Out into the Wild!
​​​Polo Forest
108 kilometers from Ahmedabad
Time taken to reach Polo forest from Ahmedabad: 2 hours
Best time to visit: August-March
The Polo Forest truly embodies the definition of a nature lover's heaven and is enriched with beguiling characteristics that would leave you astonished. It is surrounded by magnificent mountains and has the Harnav River flowing through it.
The tranquil surroundings would appeal to you with its serenity and beauty. The best time to visit Polo Forest is certainly during the morning hours as you would get the chance to hear the chirping of different birds and get to see a wide variety of creatures.
A lot of people from Ahmedabad and neighbouring states visit here during the weekends to spend a few relaxing days in this stunning and serene woodland. It will be easy to find trekking organizers in Ahmedabad that will take you to the forest. Do visit as it definitely does make for a flawless hideout and the perfect place for trekking near Ahmedabad in case you are looking for some peace.
Nalsarovar
60 kilometers from Ahmedabad
Time taken to reach Nalsarovar from Ahmedabad: 2 hours
Best time to visit: November-March
Nestled in the marshes between the fields of eastern Saurashtra and central Gujarat, Nalsarovar is a paradise for transitory birds from the month of November to January. Around 200 species of birds descend on the lake from as far as Central Europe during this period.
Owing to its stunning beauty and being home to various wildlife species, it's the ideal place for those who are looking for a tranquil getaway spot or for trekking in Gujarat.
Zanzari Falls
66 kilometers from Ahmedabad
Time taken to reach Zanzari from Ahmedabad: 1 hour
Best time to visit: October to January
Zanzari is situated on the stream Vatrak in Dehgam and is a progression of rapids with a few waterfalls, it's tallest being around 25 feet high. Theis area is ideal for photographers as it offers a plethora of opportunities for capturing the most stunning shots. The waterfall attracts a countless number of people to view its beauty from in and around Ahmedabad.
This is definitely the place to be at if you are looking forward to enjoying a great trekking experience around Gujarat.
Mount Abu
220 kilometers from Ahmedabad
Time taken to reach Mount Abu from Ahmedabad: 5 hours
Best time to visit: October to February (Mount Abu is frequented by travelers during the cooler months)
When it comes to trekking near Ahmedabad, Mount Abu cannot be missed. Situated at an elevation of 4000 feet and watered by the tranquil Nakki Lake, it is the only hill station in Rajasthan. Offering an excellent respite from the burning warmth of the desert, Mount Abu is thronged by travelers all through the year.
The most interesting place that stands out at Mount Abu is Sunset Point, which is located south-west of Nakki Lake and is a popular trekking spot. Visiting this spot in the early morning or as an evening trek would definitely prove to be a delightful experience.
It is truly one of the most memorable trekking locations near Ahmedabad. Many trekking camps from Ahmedabad will be glad to take you to the hill station.
Gir National Park
350 kilometers from Ahmedabad
Time taken to reach Gir National Park from Ahmedabad: 7 hours
Best time to visit: December to March (The park is closed from 16th June to 15th October every year)
This national park is considered a great getaway for the family and popular among wildlife lovers. Some of the most sacred animal species can be found here and it is the biggest natural reserve for Asiatic lions in India.
You can find over 250 bird species in this park among other animals like the blue bull, chinkara, wild boar, jungle cats, deer, and more. Avid bird watchers and wildlife enthusiasts will certainly find this national park remarkable. Do plan to visit as this park is one of the most famous places in Gujarat.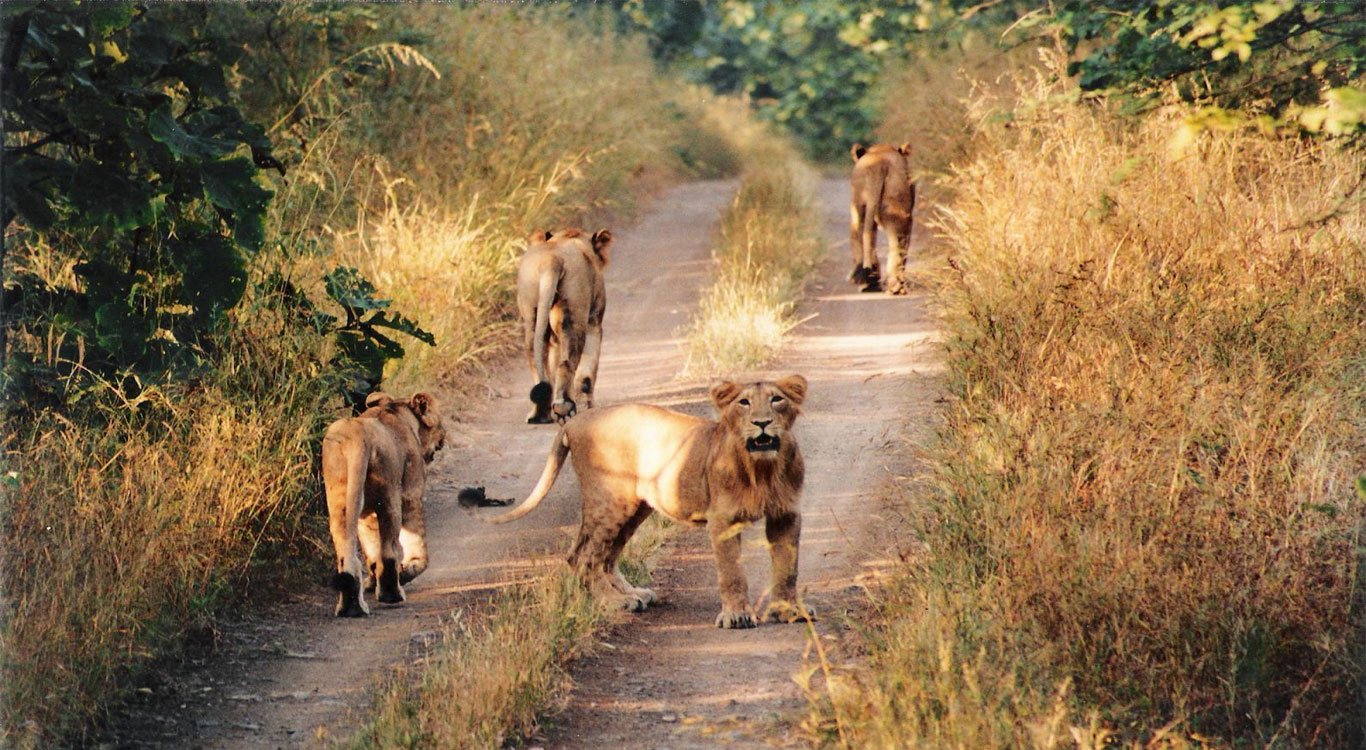 Indroda Nature Park
29 kilometers from Ahmedabad
Time taken to reach Gir National Park from Ahmedabad: 34 minutes
Best time to visit: October to March
This park is famous for being the only dinosaur museum in India. Nicknamed 'India's Jurrasic Park', it consists of a museum, dinosaur egg hatchery, as well as a zoo, wilderness park, botanical garden, and camping area. The nature park is maintained by the Gujarat Ecological Education and Research Foundation (GEER), which shelters countless species of animals and birds.
A trip to the Indroda nature park will be immeasurable fun for family and friends. Definitely consists of memorable places to visit in Gujarat.
Anala Outdoors
This popular camping and trekking company organizes trips from Ahmedabad to various destinations. They have packages for families, trekking, mountaineering, rafting, safaris, wildlife parks, and more. They offer some of the best trekking camps from Ahmedabad that you should utilize.
You can use their services for an easy going and enjoyable trekking experience.
Check out some more treks: Trekking in Maharashtra: 12 Most Toughest and Popular Treks in Maharashtra
Summing Up
As can be seen, Gujarat does offer a whole lot of opportunities for the adventure seekers to enjoy and take back home an unforgettable experience that would be cherished forever. You could also consider visiting other popular places in Gujarat like Gir National Forest, Great Rann of Kutch, Dwarka, Bhuj, and Porbandar.
So, pack your bags this weekend and get ready for one of the most exciting trekking trips of your life.
Happy Trekking in Gujarat!
Cover source