Setting up an ideal camping kitchen is a craft, a skill, and the most important deal of any overnight camp out, no matter if you're in a campground with its amenities and grill or in the deserted backwoods. Camping out means owning an organizational skill. And while the organization is required to enjoy a hassle free camping trip, one of the toughest areas to maintain for full functionality is a camping kitchen.
The excitement of finding the perfect spot, setting up your tent and air mattress or sleeping bag can slowly turn to dread when it's time to get out that rickety picnic table and fumble through multiple grocery bags every time you want to retrieve something. Not to forget, the overstuffed cooler with the important stuff inconveniently reclining at the bottom. While there are many hacks and tricks to make camping out a fun experience, how about learning a few tricks to up your game when it comes to a camping kitchen?
Which brings us back to the point that cooking at campsite kitchen can be fun and practical if you have the right gear, have prepared and organized well enough. A common mistake is bundling all of your supplies into the car and scrambling about miserably at the site. Building a camping kitchen DIY style might seem like an uphill task in comparison to just a folding camp kitchen (the commercial types) but proper planning will eliminate all the guesswork of packing and unpacking and also save you time while cooking.
Read Must Have Camping Gear - Camp Like a Pro With These Items for camping gear tips!
Components for a Camp Kitchen
To make things easier to carry and store there are a few handy devices that could very well serve as a camping kitchen box.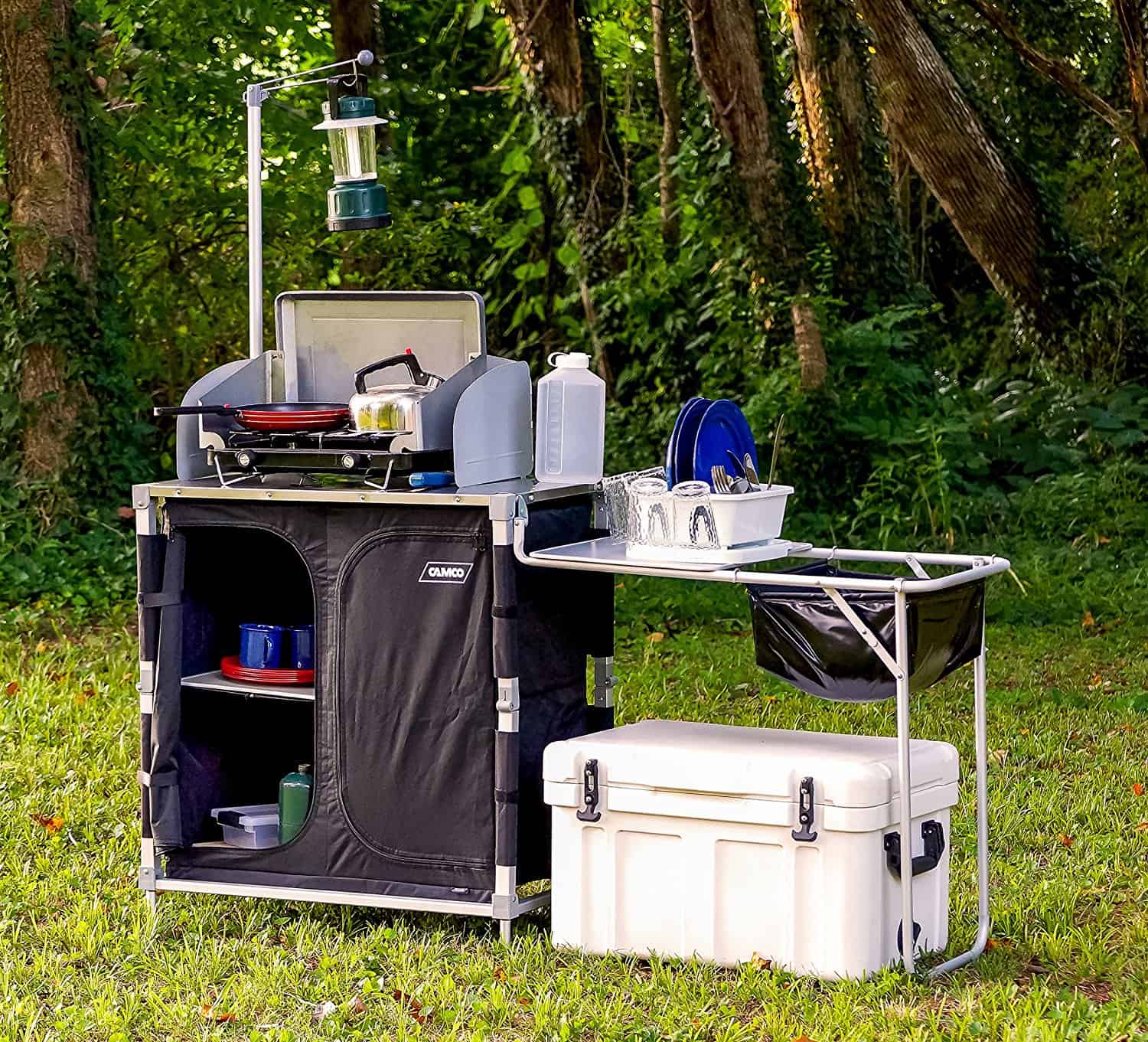 These are the top choices when it comes to creating your own camp kitchen setup:
Buckets are a great way to carry your articles. They are durable and waterproof. They also double up to carry water at the campsite or even serve as extra seating. A slight disadvantage is their shape which makes for packing into a car slightly tricky.
Bins or Tubs are another way to go. Choose good quality or high-grade materials since they should be able to survive their fair share of rough handling and make it through multiple trips before cracking or falling apart. Their common square or rectangular shape makes it easier to stack them while loading. They can also be used as additional table tops at the campsite.
A Tool Organizer is a crafty piece to have around the house but it is an equally useful item outdoors. The fact that it comes with its own share of compartments and drawers makes it so simple to categorize items without creating a mess. It could be slightly cumbersome to load into a car but think of it this way, if all fits, you don't have to carry much else.
A Cooler stands out as the single most important item. While most backcountry campers will stay far off from foods that could spoil, front country campers are welcome to enjoy some milk, bacon and even ice cold beer. It is advisable to store food items in a separate cooler than the beverages since the beverage cooler tends to be opened more often.
Components other than Storage for a Camp Kitchen
These are the essential items you will need for making your camping kitchen complete:
Pots, Pans, and Dishes
Among the bulkiest of things to carry as part of a camping kitchen box are pots and pans. They take up a lot of space and are heavy and cumbersome. Most of the camping cookware is made of cast iron. This means, it's extremely durable and can be placed directly over coals without getting black and heats well and evenly. Being non-stick is another plus, and makes it easy to clean. Apart from being heavy and annoying to carry and store, it also requires regular seasoning, not to mention keeping it dry and preventing it from rusting.
Apart from these you also need to consider dishes. Many opt for the disposable plates and utensils, but ecologically these aren't really the best choice. Also, you'll end up carrying way more stuff than necessary. Try old-fashioned plates and utensils, possibly those that are a part of a set and fit into each other for easy storage, and carry just the right amount.
Folding Tables – Camping Kitchen Table
Sure most campgrounds have picnic tables, but there's nothing wrong with that an additional folding table. It serves as a great area for food prep and cooking, leaving the picnic table free for eating. Picnic tables aren't too comfortable to cook and prep since you'll have to lean all the way over the bench. An easily stored and adjustable foldable table is a convenient place to chop veggies or put out your stove.
Camp Sink
Washing up dirty utensils and dishes are an unpleasant chore in itself, add to that the inconvenience of doing it in the wilderness. You're never going to get the dishes squeaky clean, no running water means you can't eliminate all of the soap suds, and the dishes tend to attract dust and dirt when left out to dry. Based on the length of your trip, the amount of load you are willing to and able to cart along there are options in the folding camp kitchen section for a camp sink as well. For a low investment method, a set of two or three buckets should do the trick. You could opt for collapsible buckets to save space or multi-purpose buckets that can double up to carry stuff to the campsite.
Camping Stoves and Grills
Your option of choosing between a camp stove, an open fire and a grill lies with the decision of what you're planning to cook. It is an easy option to just roast a foil packet over a burner a camp stove makes much more sense any day. While open fires are great in many ways, what do you do when they aren't permitted, the rain is pouring down, or you have no wood? Camp Stove to the rescue! It's a different matter if you choose to grill or have some delicacy recipes you want to try out.
For this too you have two options. One, you could build an open fire and use a grill grate, which some campgrounds also provide. Second, to avoid spending time laying down a bed of coal you could use a portable grill which is easy to use and pack up too.
Advantages of a DIY Camping Kitchen
When you work out a system for yourself for the best camp kitchen, with precision and proper planning there are one too many ways of benefitting out of it:
It makes it easier to pack in everything and load into your car. Proper storage containers will give you more storage space, and you won't need to worry about fragile items getting smashed or packing the stuff depending on what you need first.

You'll end up carrying a lot less stuff. Organizing means you'll eliminate duplication, and while sorting through items, it's easier to get rid of those which aren't important and less likely to be needed, leaving you with only the essentials.

It'll make it easier to find everything when you need it. Packing things yourself by following a system means you'll be able to easily locate stuff without having to go through multiple bags or feel around in nooks and corners for a missing item.

Cleaning up is a much easier task since you have an orderly place for all items. Washing and drying become a hoot when you have a system in place that works exactly for you.

Considering it works well with your camping and cooking style, it becomes a kind of a fool-proof plan that can be used repetitively.
Commercial Camping Kitchen Set
If you have the budget to spare and would like to make a U-turn from all the mess and hassle, there are plenty of options of camping kitchens available which make for the best camping kitchen organizers since they take care of almost every need. Available in all sizes and shapes they incorporate dishwashing sets, storage bins, utensil holders, pockets, hooks, fold-out or pop-up tables all rolled into one system. However, with a camping kitchen set, one size doesn't fit all and a pre-defined setup might not be your thing. Coming up with your own system means you don't have to shell out big bucks and can easily eliminate the extra things that aren't required.
How to Organize a Camping Kitchen
Below we have a few pointers that will help you plan your kitchen – tips to be the best camping kitchen organizers if you will - before the trip and at the campsite so that you have a well functional camping kitchen:
Plan out all your meals. Shop for the items needed for each meal and pack them separately as per the meal plan into airtight containers or coolers for ease of transportation and usage.

At the campsite, position a pole tent bearing a card table which will be used for preparing meals and washing up. You can also keep a jug or a bucket of water nearby with all the wash-up essentials like dishwashing detergent, dish rack and wash clothes at hand. Stipulate a washcloth especially for cleaning up messes.

Place cooled and frozen foods into individual coolers if possible of store separately. Your items should also be packed in order of use to increase functionality. Store all food containers under the tent and away from the influence of the elements.

Store spices categorized in airtight and dry containers to avoid spillage and exposure to any moisture. Also preferably use clear containers which makes identifying the spices easier and faster.

Maintain the freshness of items like dry goods and veggies by storing them in airtight canisters.

Use a tall storage container to keep another assortment of kitchen items. Cutlery, dishes, and napkins can be placed on or near the table for easy access and cooking utensils and pots etc. can be kept near the cooking stove or grill area.
Garbage and Disposal
Since we are discussing efficient camping kitchens, another thing that requires addressing is all the waste that will be created while camping and from the kitchen section in particular. The 'Leave No Trace' principle stands true of a campground or the wilderness. The things to keep in mind for proper garbage is disposition are the environment, insects and animals. Most campgrounds have dumpsters, where you should dispose of any garbage before turning for the night. If garbage disposal is left to the camper's discretion you should bag it all up and leave it in your car for the night. Another alternative is purchasing a pop-up garbage can where you can easily store your garbage to easily dispose of on your way out. Beware though, these aren't animal proof, so you might not want to leave them out in the open.
Summing Up
Mediocre and substandard storage of camp equipment and essentials will lead to deteriorating faster, becoming unusable much quicker often accompanied with funky unpleasant smells. All of this is not going to make your camping experience pleasant. An unorganized campsite turns messy and involves more than usual work.
Bringing in some specific systems before and while camping will provide you with a hassle-free time to enjoy the outdoors…
Cover Source!