Nestled in the lap of the Indian Himalayas in the state of Himachal Pradesh, the Buran Ghati Trek is a trekker's Haven. This trail takes you through Alpine forests with trees that stand tall and proud overlooking snow-capped mountain peaks, meadows with lush green grass carpeting the entire expanse and inviting cattle to graze and frolic around, and finally through the pass or ghati that connects the Pabbar valley in the Shimla district to the Sangla valley in Kinnaur District, two mesmerizingly peaceful villages hidden among the Himalayas.
Know More Here:
The Buran Ghati trek is a mostly unexplored route so it is an oasis for all solivagant explorers looking for a little alone time, away from the rush of the city.
The Buran Ghati Trek: An Overview
Where it is Located: Himachal Pradesh
Number of Trekking Days: 7 days
Trekking Grade: Easy - Moderate
Max Altitude: 4,550 m (15,000 ft)
Trekking Distance: 50 km (Approx.)
Livingit Rank: Enthusiast - Advanced
More about the Buran Ghati Trek
Located at the height of 4,550 m (15,000 ft), the Buran Pass belongs to the Shiwalik Range of the great abode of young fold mountains. This trek can be carried out on a minimum budget of INR 15,000 per head and thus, is an excellent spot to be explored even by students. The Buran Ghati Trek is a moderately difficult trek and requires about a short span of 7 days from the starting point to the end.
As it is located conveniently close to the Jubbarhatti airport in Shimla, the capital city of Himachal Pradesh, as well as to the rail head of Kalka in the same state, the Buran Ghati trek can be easily covered. Another convenience that the trek provides us with is that it starts and ends at the same place, a small village called Janglik.
Best Time to Visit the Buran Pass
The ideal time to go for the Buran Ghati Trek is the spring and the autumn season. These are the seasons that will let you enjoy the perfect, spotless and ethereal snowy terrains as well as the lush and verdant meadows, along with the mysterious, deep, and dark Himalayan Alpine forests. The average day temperature ranges between 13 degrees to 18 degrees, while at night is ranges between 0 degrees to 7 degrees. The temperature of Shimla is steady around 12 degrees on an average.
Average Temperatures
Summer: 24 to 28 degree Celsius (day); 14 to 17 degree Celsius (night)
Winter: 10 to 15 degree Celsius (day); 3 to 9 degree Celsius (night)
Spring: 13 to 22 degree Celsius (day); 6 to 11 degree Celsius (night)
Autumn: 22 to 28 degree Celsius (day); 16 to 20 degree Celsius (night)
How to Reach Buran Ghati
The base camp of the Buran Ghati trek is Janglik, a small village that is approximately 147 km from Shimla. To reach Shimla you can opt for the following routes:
Air: You can reach Shimla by air opting for either Jubbarhatti Airport or Chandigarh Airport.
Rail: The nearest railway station is Kalka, where you can reach from almost any part of the nation
Road: Travelling by road is also an option, as this capital city is well-connected to most major cities by well-maintained highways and expressways.
Similarly, getting back is to be done in the same way without any inconvenience to be faced.
Brief Itinerary of the Buran Ghati Trek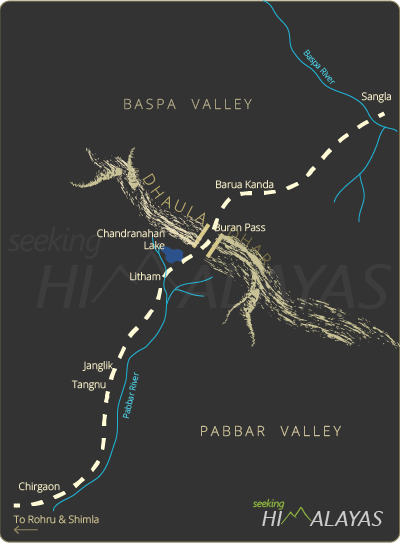 The Buran Ghati trek is a 7 day trek that starts and ends in Janglik village. Below given is a brief itinerary of how the trek can be covered. Of course, you are free to change it up, reduce the number of days or extend your stay according to your convenience.
Day 1: Shimla to Janglikh (Altitude: 9,200 ft)
Day 02: Janglikh to Dayara (Altitude: 11,075 ft)
Day 03: Dayara to Litham (Altitude: 11,737 ft)
Day 04: Litham to Chandranahan Lake (Altitude: 13,900 ft)
Day 05: Litham to Dhunda (Altitude: 13,365 ft)
Day 06: Dhunda to River Camp via Buran Ghati (Altitude: 15,000 ft)
Day 07: Buran Ghati to Barua Village (Altitude: 6,700 ft.)
Buran Ghati Trek: A Detailed Itinerary
Water Sources: Other than in the Dhunda to River Camp stretch via Buran Pass, you will have plenty of fresh water streams to fill up your bottles with. However, it is advised to start each stretch with full bottles.
Once you reach Shimla, you can book a hotel to stay for the day and relax or explore the beautiful city if you want. The next day is when your adventure begins.
Journey from Shimla to Janglik
The very first day of the tour initiates the beginning of the excitement that follows itself in intensity and effect. Leaving behind Rohru, and along the blue waters of the river Pabbar, you have to proceed towards the pristine Alpine village called Janglik. All along the drive, you will be able to absorb the goodness of the ambience enough and to your heart's content along the drive.
From structured square fields of terrace gardening to the typical homes of the Himachali natives hanging in a deadly and precarious way in the valleys and the small patches of villages, the desire to stop at every beautiful spot and click a photograph will be overwhelming. As you proceed towards the Coniferous growth of Tonglu, your car has to take the motorable road and the dirt track at Tikri. After travelling for 2 hours on this dirt track, you would have to cross the river Pabbar, only to reach Diude. Janglik is at a stone's throw from Diude and your first walking experience starts from here with easy baby steps.
Walk from Janglikh to Dayara
The second day, you would be reaching a height of about 11075 ft from 9200 ft of the previous day. After a moderate gradient, you will reach a flat stretch that'll last for about 15 minutes. After that, you will again walk along the ascent of height for about half an hour through a forest only to descend into a beautiful landscape of meadows. The meadows, on ending, would again lead you to a forested stretch for ascending.
Livingit Tip

Carry about a litre of water with you from Janglik even though you would be able to fill your bottle at the streams on your way with the readily available and commercially hyped "Himalayan Water".
Walking past Diude, you will arrive at a point where you would enjoy a view of Diude, Tonglu and other Himalayan Villages together. The first beautiful day of your trek begins likewise. This entire day will be full of undulated travelling and exploring through meadows and forests and across narrow creeks and streams. After continuing your trek for a while, you will notice a stark difference between the landscape you left behind and the one you just stepped into. This is because the trail of the snowy landscape starts henceforth, with scattered patches of whites here and there, you would again enter into a forest of pines and firs, only much darker, deeper, and denser. Walking for about half an hour, you will arrive at a meadow again.
Trek from Dayara to Litham
On the third day, you will start from Dayara towards Litham. The trail is quite easy as there are minor ups and downs of the undulating mountainous plains. This climb takes you from about 11,000 ft to 11,737 ft. and usually takes roughly three hours. It is advisable that you carry about a litre of water from Dayara and not more as you will across plenty of fresh water streams to quench your thirst. Reach Dayara as early as possible in the morning to get a taste of the meadows of Dayara, to bask in the sun with the greenery altogether.
As you are gaining altitude while reaching the Gunas Pass, you will have to cross verdant green stretches of meadows and streams. Reaching Dayara, you would be leaping over a stream and eventually, your eyes would be dazed with the shining range of Dhauladhar in front of your eyes! Crossing this meadow, there is a descending trail into a dense and luxurious growth of pines, which after crossing, would lead you to another silvery forest of Silver Birch. The forest is mysterious and mystical with tarnish yet silvery clumps of trees. The forest leads towards the Chandranahan stream, which eventually leads to the camp site of Litham.
Trek from Litham to Chandranahan Lake
The trek from Litham to Chandarnahan Lake rises to an altitude of 11737 ft to 13900 ft. The trail becomes steep and difficult from here and after walking up a gradual accession, the steep climb starts. Likewise, the return to the campsite of Litham would be as steep, even if you are coming downhill. Crossing the glacier fed Chandranahan stream, walk towards its snout where, you will find stone Cairns and landmarks made by the local people and trekkers. Reaching here, you will realize that the source of the stream and the water fall are not the same. To explore the source of the stream, you would have to walk a further of one hour from here. The snout or source of the water fall offers a picturesque and panoramic view of the surrounding.
Trek from Litham to Dhunda
The trek towards Dhunda from Litham gradually attains the height of 13,365 ft from 11,737 ft. You will get innumerable sources of stream water along the way. From Dhunda, you have to walk for about 2 hours to reach Buran Ghati. After walking for a gradual accession uphill, there would be a steep rise in altitude and you will observe that the Chandranahan stream is no more a meek flow of water but has transformed into a mature, violent stream.
The Buran Ghati would fall on your left and you would be in the oblivion of wonder and happiness. The zeal of joy would capture you once you get absorbed in the duo tones of grey and white around you. Start climbing again towards Dhunda following the shepherd's trail, your campsite would be set amidst patches of white snow even in the month of June.
Trek from Dhunda to River Camp via Buran Ghati
In this stretch, from a height of 13,365 ft, you would descend to 11,800 ft, only to climb to a height of 15,000 ft at the pass of Buran Ghati. The trail is quite difficult and coarse and there would not be any source of natural water along the way. It is imperative that you keep yourself well hydrated and carry at least bottles full of 2 litres of water per head. It becomes very difficult to cross the pavement of rugged stones, flat and stout, during the months of September.
Besides, climbing up the pass of Buran Ghati, it is advisable to secure yourself with ropes even if you are carrying an ice axe to rappel down. This would be one of the thrilling experiences of your life you should not compromise with or can compare to. Descending by rappelling would not take more than a couple of hours you would lose an altitude of 3,000 ft all at once! Descending further down you would come across a stream where you would be camping for the night. The experience at Buran Pass along with the freshness of the Buran Wind would lull you into sleep very fast.
Trek from Buran Ghati to Barua Village
This stretch is a leisurely trek as you would require climbing down to 6700 ft through a moderately easy trail and within 4 hours you would reach the Barua Village. Carry about 2 litres of water as there are only a few water sources downhill. The Barua Village adds to the variety of the entire trekking schedule with its diverse beauty. To reach the village you would have to cross a makeshift stream bridge over a virulent stream and eventually, after passing by orchards of peaches and apples, you would get the glimpses of civilization. Visit the colossal temple in the locality and indulge in a warm cuppa of tea prepared by local vendors. Walking past the village you would finally complete your trek and would have to board a vehicle to Shimla.
Reasons to be Smitten with the Buran Ghati Trek
You would be awestruck knowing the reasons to be smitten with the Buran Ghati Trek as you are going to be bombarded with innumerable reasons one after the other!
The Buran Ghati trek is a new born trail in the list of the various trekking routes that India offers. Owing to this fact, this trail is almost a virgin route and if you detest crowded trails then you definitely know why you must have to keep this one at the top of your trekking bucket list.
According to several professional trekkers, the Buran Ghati Trek is perhaps the best alternative to the most famous trail in India, i.e. the Roopkund Trek. Now, the latter is a bit difficult to be carried out if your pockets are strained so you can always opt for the former as it demands a cheaper budget.
The Buran Ghati trail is a perfectly and flawlessly landscaped Trek route. It has a perfect permutation and combination of forests, meadows and snowy landscapes. Whether you are an atheist or agnostic or a firm and ardent believer in God, you would thank nature for her picturesque architecture of the landscapes here. Right from the starting point at Janglik to the various locales as you ascend uphill, you would be amazed at the beauty and variety of this particular trail amidst the other Himalayan treks.
For Bollywood movie buffs, this reason would be very inspiring. The famous actor of Raanjhanaa fame, Swara Bhaskara has also been smitten with the immensely beautiful Buran Ghati Trekking experience.
At the altitude of 15,000 ft, a trekker has to rappel down the snow embedded slopes and, of course, enjoy the thrill of thrill! So if you're into adventure sports, this place is for you!
Not only the landscapes, even the small villages like Janglik evoke how pristine and virgin they are, away from the commercial focus and the din and bustle of our concrete world.
There are very few trails in India that have colossal ice walls to surpass. The one at the height of 400 m would be very difficult to tread yet the memory of the grand vertical view would remain etched and embossed in your heart throughout your life.
This pass is said to be a bridge between two separate nations. This is because; there comes a terrain of meadows where you would be standing in the middle of the snowy landscape on one side and the green meadows in the other.
Trekking Essentials for the Buran Ghati Trek
Trekking equipment is definitely and completely different from leisure trips and requires several things to be carried. It is advisable to invest in good quality essentials than local or cheap ones. Try not to carry unnecessary things in your trek. And always leave a packet of raisins or chocolates tossed somewhere in the bottom of your rucksack.
Similar to other treks, the Buran Ghati trek to demands you to carry a minimum of a few things, including clothing, accessories and medicines.
Basics: Invest in a good quality rucksack of 60 to 70 l. Carry a pair of trekking shoes, a head lamp or torch, extra batteries, a hiking or trekking pole, a light weight water bottle, a compass, and a map of the area.
Clothing: Pack about 3 t-shirts, 2 or 3 pairs of socks, one full sleeves sweater and a downs jacket to keep you warm. Apart from these, carry 3 pairs of water proof hiking pants, a face towel and inner garments as required.
Accessories: Carry a sun cap or hat, snacks like chocolates and dry fruits as well as ready to eat food like Maggi. You may also carry a paraffin stove.
Toiletries: Pack a sunscreen or sun block, towels, toothpaste, toothbrush, hand sanitizers, toilet paper, lip balm, moisturizers, and tissue paper packets.
Medicines: Pack your first aid kit with Calpol, Rantac, Eno, avomine, Combiflam, Volini spray, soframycin, gauge, cotton wool, crepe bandage and band aids.
Documents: Carry with you the originals and photocopies of any ID proof (driver's licence, Aadhar Card, etc.) and a medical certificate attested by your doctor
It is to be kept in mind that these are the key essential things that you need to carry, you can, however, change the number of units as per your choice, again, it is imperative to keep your rucksack as light as possible because carrying a heavy one on you back is not a good idea. The weight of the bag would slow you down, tiring you quite fast than usual.
Cost Terms for the Buran Ghati Trek
The expenditure for trekking to Buran Ghati is quite affordable. In only a sum of 15 thousand rupees, you would be able to experience a wonderful journey amidst the Himalayas. The inclusions and exclusions depend on package you choose, but here's a generic list for reference:
Inclusion
Professional Trek Instructor
Medical Expert
Professional Guide
Meals + Snacks
Safety Gear
Medical Kit + Oxygen Tanks
Permits Required
Exclusion
Transport to and from Shimla
Personal Expenses
Personal Insurances
Bottled Water
How to Get Fit for the Buran Ghati Trek
Trekking requires you to be very fit and it is advisable that you prepare yourself beforehand, at least from a few months before your journey. Practice simple stretching, cardio and circuit training exercises for 15 minutes every day.
Things to Remember
The Buran Ghati trek is a 7 day long journey. With a journey so long, there are bound to be some rules, or key aspects, to be kept in mind before going forth the trek.
It is imperative that you start conditioning your body at least 2 months before the scheduled time. Conditioning must involve rigorous cardio exercises and run. You can also practice on a flight of stairs by climbing up and down a t speed higher than yours.
Study a map of the destination as thoroughly as possible, and you could always keep a handy version of the map during you trek
It is advisable that you cut down on your smoking for a few months as you might feel out of breath while rappelling down the Buran Ghati Pass
Do not carry the trek on your own even if you are an avid trekker. There cannot be a better guide than the local ones for the Himalayas. Besides, you could always learn the chit chat and conversation worthy local dialect for fun.
Lastly, it must be said instead of hankering after the most popular trail routes of India, seek for the brimming and new places are longing to be explored. The Himalayan areas are plastic free zone and it is advisable that you too go plastic free during the trek.
Try and not cause any harm to the natural flora and fauna and avoid taking unnecessary risks, like taking shorts cuts or to descending down the wall of the pass without being tied to a rope and the like. Make the most of your trip by enjoying your gala time in the lap of nature, brooding and meditating, observing and being enchanted.
Summing Up
The Buran Ghati trek is a blessing for the introvert and an opportunity for the explorer. It is an untraversed trail waiting to be explored. So grab your rucksack and pack your belongings and visit this hidden gem in the Himalayas before it gets too crowded!
Cover Source