The challenge posed by this race has led to the development of special wheels and cycle frames. Cyclists prefer to use wider tires, dual brake levers, and cantilever brakes to be able to traverse this route in a more forgiving way.If your heart races at the mention of cycling challenges, then you must know about the Paris Roubaix Challenge.
This Challenge constitutes a one-day professional men's cycling road race, that takes place in the northern region of France every year.
Why is it called Paris Roubaix Challenge
Well, it starts from the north of Paris and finishes at Roubaix, at the border with Belgium and thus, the name. This event is among the oldest pro-cycling races of the world and gives the participants points for their UCI Ranking. It is considered to be one of the five 'monuments' or classic races in European cycling calendar.
The main feature of this race that sets it apart from the rest is its rough course.
Why tough?
The terrain that participants encounter in the Paris Roubaix Challenge route is characterized by cobblestones or pave.
Some other pro-cycling events like the Gent-Wevelgem and the E3 Harelbeke also have cobblestone laden stretches on their race route, but the peculiarity of the Paris Roubaix route has earned the name "Hell of the North" for this event.
Brief History of Paris Roubaix Challenge
Paris Roubaix remains one of the oldest pro-cycling races in the world. Its inaugural race was held in 1896 and so far, it was interrupted only for the two World Wars.
The concept of the race came from Théodore Vienne and Maurice Perez. They, along with Louis Minart, the editor of the sports-paper Le Vélo, conceptualized the route and other details. The first prize was proposed to be equivalent of a sum that represented the wages of a miner for seven months.
The first Paris Roubaix pro-cycling race was held on 19th April 1896, and Josef Fischer from Germany became the first champion of this race.
The route of this race is full of cobblestone stretches, and the finisher is almost completely caked with mud and sand by the time the race is completed.
The organization "Les Amis de Paris Roubaix" is in charge of maintaining the cobbled sections of the route so that they can be used for the race every year. Many spectators remove cobblestones from the race route and take them home as a souvenir, thereby necessitating a regular maintenance.
Paris Roubaix 2018 Challenge
Over the years, the start line of the race and the course itself, have seen many changes. The original start of the race was from Paris and it finished at Roubaix. This year, the Paris Roubaix Challenge will be held on 7th April 2018.
In 1966, the start point was moved to Chantilly, and in 1977 to Compiègne. The approximate distance from Compiègne and Roubaix is 260 kilometers. While the finish of the race is on about 750 meters of the smooth surface of concrete at the Vélodrome André-Pétrieux stadium in Roubaix, the last 150 kilometers of the race route has more than 50 kilometers of cobbled terrain.
The Cobbled Sector Route
Although the numbers of cobbled sectors on the Paris Roubaix route vary from time to time, each cobbled sector is classified from 2 to 5 stars, based on the challenge it poses to the cyclist.
Every cobbled sector has a signboard and marker, and some of these sectors have electronic timing mats.
The main cobbled sectors of the route are:
Troisvilles to Inchy -
This cobbled sector was included in the route in 1987, and since then, it is the first cobbled stretch that participants of Paris Roubaix Challenge have to face.The elevation of this stretch is 136 meters, and this stretch begins after cyclists have covered about 100 kilometers in the route.
Wallers Haveluy -
This 2.5 kilometers long cobbled stretch has a gentle rise and fall.
Trouée d'Arenberg -
This cobbled sector in the route has become the identity of the Paris Roubaix pro-cycling race.Officially, this stretch is known as La Drève des Boules d'Herin and spans over almost 2.5 kilometers. This stretch occurs about 100 kilometers before the finish line and is considered to be challenging enough to determine which participant gets the lead.
Many cyclists have fallen off their bicycles on this stretch and suffered serious injuries. This cobbled stretch has been certified as having a five-star level of difficulty.
Mons-en-Pévèle -
This cobbled sector is the second five-star difficulty level stretch on the Paris Roubaix cycling route. It spans over about 3 kilometers and has two sharp right-angled turns.
Carrefour de l'Arbre -
This cobbled stretch is the final five-star level difficult stretch on the race route. This stretch is about 2.1 kilometers long and is about 15 kilometers from Roubaix.
Espace Charles Crupeland -
This stretch runs for about 300 meters and has smooth fresh cobbles. It is located just before the stadium where the race ends.
The Paris Roubaix 2018 race will have the option of participation in either the 172-kilometer race route, 145-kilometer race route or 70-kilometer race route, depending on your skill and endurance.
The exact route for each of these formats will be unveiled in March 2018 but is not expected to be much different from the Paris Roubaix 2017 route.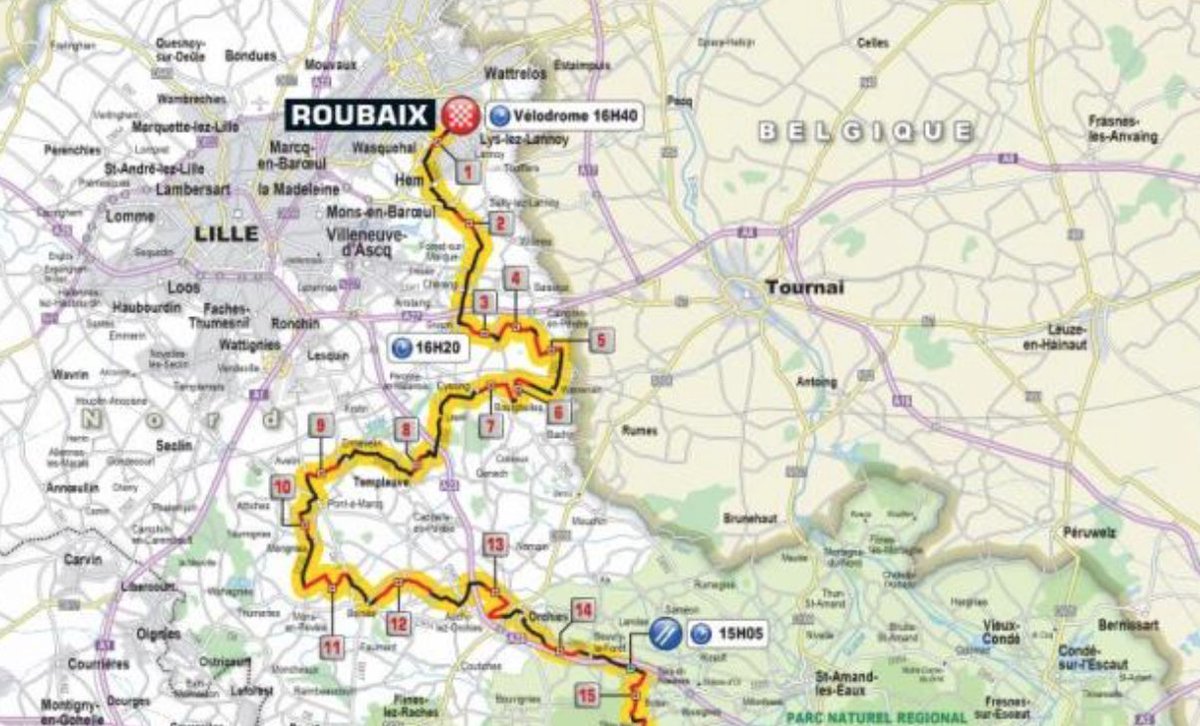 The 2017 event was quite similar to Paris Roubaix 2016, the route of which had 27 cobbled stretches on the 172-kilometers race route, 18 cobbled stretches on the 145-kilometers race route and 7 cobbled stretches on the 70-kilometer race route.
The starting points for these three race formats for the Paris Roubaix Sportive 2018 have been fixed.
The 172-km race will start at the town hall in Busigny. A shuttle bus will be available to take participants form Roubaix to Busigny on race day.
The other two race formats, i.e., the 145-km and 70-k races will begin opposite Jean Stablinski Regional Velodrome in Roubaix.
All three races will finish in the Vélodrome André-Pétrieux, where food trucks will welcome finishers with an assortment of delectable platters.
Did you know?
The fastest finisher for Paris Roubaix is Greg van Avermaet (BEL) in 2017
Average Speed - 45.2 km/h (28.1 mph)
Distance - 257 km (160 mi)
Aid Stations
There will be enough aid stations on the route to provide the participants with water, electrolyte solution, fruits, dry fruits, and food. In addition, medical and technical assistance will be provided on several points throughout the route.
If you are ready to test your grit and determination and want to participate in the upcoming Paris Roubaix race, read on for the pertinent information.
Registration Details and Fee
The Paris Roubaix Challenge will be held on 7th April 2018.
The registration fee for different race formats is mentioned below:
Normal Registration Fee: 27 Euros (70 km), 45 Euros (145 km), 55 Euros (172 km)
Last Minute Registration Fee: 35 Euros (70 km), 52 Euros (145 km), 62 Euros (172 km)
Team Registration Fee: If you want to take part as a team, you must apply for the 172-kilometer format and have a team of 7 cyclists. The fee, in this case, is 315 Euros.
Prize Money
For the Paris Roubaix 2017 event, the total prize money was 91,000 Euros that was given to top 20 finishers.
The first finisher received 30,000 Euros
The second received 22,000 Euros and
The third finisher received 15,000 Euros.
Most Individual Wins at the Paris Roubaix Challenge (With 4 wins each)

Roger De Vlaeminck (1972, 1974, 1975, 1977)
Tom Boonen (2005, 2008, 2009, 2012)
Personal Accident Insurance
Most of the regular insurance policies have a clause that they don't cover injuries suffered at sports events.
So what should you do?
Well, it is advisable that you check with your insurance provider about these details. Given the difficulty of the Paris Roubaix route, an insurance for injuries in this event is highly recommended.
The organizers have the provision of making this insurance available in case your insurance company does not provide it.
Paris Roubaix Challenge: Collecting Race Numbers
Once you register for the event, you will receive a notification letter from the race organizers. You will have to carry this letter, along with a proof of your identity when you collect your race number. Race numbers will be available at the following locations:
For the 70-kilometer race
Race numbers will be distributed at the Jean Stablinski Regional Velodrome, Roubaix; on 6th April 2018 from 2 pm to 6:30 pm; and on 7th April 2018 from 6 am to 10:45 am.
For the 145-kilometer race
Race numbers will be distributed at the Jean Stablinski Regional Velodrome, Roubaix; on 6th April 2018 from 2 pm to 6:30 pm; and on 7th April 2018 from 6 am to 9:45 am.
For the 172-kilometer race
Race numbers will be distributed at the Jean Stablinski Regional Velodrome, Roubaix; on 6th April 2018 from 2 pm to 6:30 pm; and at the Salle des Fêtes in Busigny on 7th April from 6 am to 8:45 am.
Transportation Details: How to Reach Roubaix
Reaching Roubaix is very easy by public transportation as well as by private vehicles.
Here is how you can reach Roubaix:
By flight -
Lille Lesquin airport is the closest airport to Roubaix. Airports of France and Belgium are also well connected to Roubaix by regular train service.
By Train -
Roubaix can be reached by trains from Paros, Brussels, and Londres.
By Car -
Five motorways connect Roubaix to major cities like Paris, Brussels, Ghent, Antwerp, Dunkirk, Amsterdam, Calais, and Valenciennes.
On the race day, shuttles for the 172-kilometer route will be available from Auchan Leers shopping center at 5 am. Proper provisions will be made to transport your bicycle to Busigny.
Accommodation
There are a lot of hotels in Roubaix and Lille that can be booked for your stay for this event. For example, Ibis Hotel Cambrai, Mercure Lille Roubaix Grand, and Ibis Lille Roubaix Center.
Frequently Asked Questions for Paris Roubaix Challenge 2018
Q: What types of bicycles are allowed on the Paris Roubaix race route?
A: All bicycles that have been approved by the French Cycling Federation are allowed, except electric bikes, recumbent bikes and handlebar extensions.
Q: Is this race timed?
A: Many sections are timed but there is no official ranking of finishers based on their time.
Q: What are the start times for various formats in the Paris Roubaix 2018 event?
A: The Paris Roubaix Challenge has a rolling start. Depending on the race type, the start time will be as follows:
172 km: between 7 am and 9 am
145 km: between 7 am and 10 am
70 km: between 7 am and 11 am.
Q: Are there any road rules to be followed?
A: Since the race will be on roads that are open to traffic, the general rules of driving on French highways will be applicable.
If your heart yearns for some real cycling challenge, you must gear up for the Paris Roubaix cycling race.
It is a unique and challenging race with cobble road format, and only the cyclists with a tough mental frame can finish this race. What drives you to this race is not the cash incentive, but the sheer determination to achieve a new goal that you set for yourself.
Image Source