The joy of cycling lies in the fact that you can pedal on your sweet pace and observe the surroundings as you pedal ahead.The beauty of these rides is enhanced if the natural landscape is a blend of coastline, hill slopes, meadows, concrete roads and rocky terrain. Because the route between Mumbai and Goa offers these scenic variations in cycling trails, cycling from Mumbai to Goa is getting increasingly popular.
Cycling from Mumbai to Goa: The Trip Overview You Need
The cycling route that takes you from Mumbai to Goa spans over 560 kilometers and is covered in almost a week. The cyclists have stopovers at strategic places that allow them to enjoy the beauty of their surroundings as they rest for the night. If you are excited by this cycling event in Mumbai, then go ahead and start planning your trip! We have compiled all the relevant details about this cycling trip so that you can plan it with your friends without any hassle.
The trip starts from prominent landmarks in Mumbai, most commonly from the Gateway of India, but some cycling groups also start form other locations like Dadar TT. Each day typically has a morning cycling session and an evening cycling session with meal breaks in between.
It is vital to start early in the morning as it is the best time to cover large distances.
Traffic is minimal at this time, and the weather isn't too harsh. Cyclists on this route enjoy dinner at proper hotels or restaurants, but the other meals are typically on the go. There is always an option of carrying your own sleeping bags and outdoor tents and get a true feel for outdoor adventure.
This trip is especially popular among the Youth Hostels Association of India (YHAI) and they regularly plan Mumbai to Goa cycling trips for YHAI members.
Mumbai to Goa Cycling Trip: Detailed Itinerary
Not only will you experience some marvellous natural landscapes, but also pass through some rural villages of Maharashtra to witness how they live.
The seven days spent on this cycling trip will remain etched in your memory forever.
Day 1: Mumbai - Murud
Total cycling distance: 63 kilometers
Total cycling time: 6-7 hours
Difficulty level: Moderate
The first day of this cycling trip will begin with the cycling group assembling at the decided landmark in Mumbai. Although there are many starting points for cycling events in Mumbai, the most favoured starting point is the Gateway of India.
For those groups that meet at the Gateway of India, the trip commences by a ferry ride to Mandawa Jetty, that takes about 75 minutes. It is advisable to start early so that you can cover maximum distance while the weather remains pleasant.
Once you get down at Mandawa Jetty, you will begin pedalling for about 30 kilometers to reach Alibag in Raigad district.
It will be lunchtime when you reach here, and the group will stop for a small lunch break before resuming their cycling for another 24 kilometers towards Revdanda and then Kashid. This stretch will have the famous Korlai lighthouse and it is recommended that you make a quick stop at this landmark for a photograph.
As you continue towards Kashid, you will pass through vast rice fields and observe the farmers hard at work. The rice fields are surrounded by hillocks that are lush green.
This countryside presents a picture that is strikingly different from the fast city life. Once you approach Kashid, Murud will be a few minutes away.
There are plenty of options for boarding and lodging overnight in Murud, and you should treat yourself to a good night's sleep and wake up fresh the next morning.
Day 2: Murud - Harihareshwar
Total cycling distance: 82 kilometers
Total cycling time: 9-10 hours
Difficulty level: Moderate
The second day in the itinerary will require you to pedal for over 80 kilometers, but the terrain will mostly be flat. Of the various cycling events in Mumbai, this route is getting most popular because of the perfect blend of favourable terrain and scenic delights.
After your morning breakfast, the group will cross the famous Janjira Fort and then continue their journey towards Harihareshwar. This scenic route offers magnificent views of the Konkan seascape.
You will pass through Rajapuri and Agardand before you reach Dighi. Here, you will board a ferry to cross the river and continue cycling all the way up to Diveagar.
There are plenty of options for snacking on the way and the group can take a lunch break at a mutually convenient time.
Diveagar is famous for its Ganesh temple that houses the idol in pure gold. After visiting the temple, you will proceed towards Harihareshwar.
Despite the long distance, you cover on this day, you will not feel worn out because of the refreshing route. Overnight stay will be at a guest house in Harihareshwar.
Day 3: Harihareshwar – Dapoli
Total cycling distance: 70 kilometers
Total cycling time: 7 - 8 hours
Difficulty level: Easy– moderate
The third day of your cycling trip from Mumbai to Goa commences after breakfast as you visit the local temple at Harihareshwar. The group will then proceed towards Bagmandala where the river will have to be crossed by a ferry to reach Vesavi. From Vesavi, you will continue your cycle up to Kelshi before your lunch break.
After lunch, the group continues pedalling up to the fishing town of Harnai. Cyclists should not miss a chance of posing against the background of dozens of colourful fishing boats lined up next to each other on the shore.
Nothing matches with the landscapes and seascapes that are spread throughout this route.The cyclists will then continue cycling until they reach Dapoli, where they will stay overnight in a guesthouse.
Day 4: Dapoli - Velneshwar
Total cycling distance: 65 kilometers
Total cycling time: 7 - 8 hours
Difficulty level: Moderate
After a light breakfast at Dapoli, the group starts the fourth day of their Mumbai- Goa cycling expedition, as they continue cycling to reach Dabhol. At Dabhol, they will take a ferry ride to reach Veldur. After getting down at Veldur, the cycling route continues till Guhagar, where a lunch break will be made.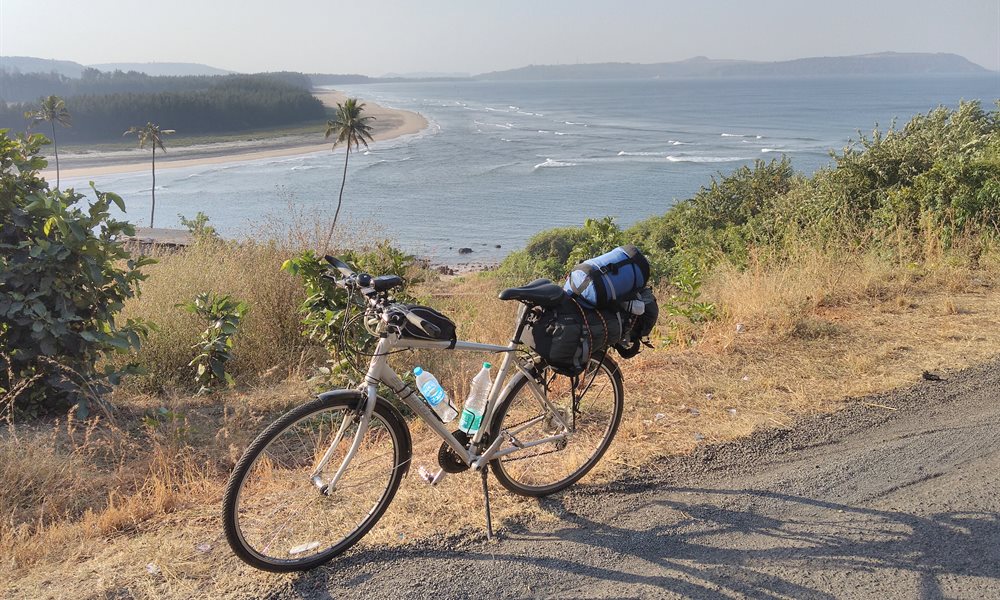 After lunch, the cyclists will continue pedalling till Velneshwar and reach here by evening.
Cyclists will have the rest of the evening to spend at the beach and relax. You might want to visit the temple on the beach here. Overnight stay will be at a guesthouse in Velneshwar.
Day 5: Velneshwar - Pawas
Total cycling distance: 80 kilometers
Total cycling time: 8 - 9 hours
Difficulty level: Moderate
The fifth day in the Mumbai to Goa cycling tour will feature breakfast on the go. You will leave early from Velneshwar and pedal up to Tavsal, where you will board a ferry and have breakfast while you cross the river to reach Jaigad.
After de-boarding, you will continue cycling until you reach Ganpatipule where you will take a small break to visit some beautiful temples. This is also the place where you will have lunch.
Post-lunch, you will cycle up to Ratnagiri. The whole route is flat and offers scenic treats in the form of lush green paddy fields, orchards of fruits like mango and coconut, cashew nut plantations etc.
After crossing Ratnagiri, you will have to make an uphill ride towards Pawas. Overnight stay will be at Pawas.
Day 6: Pawas - Kunkeshwar
Total cycling distance: 95 kilometers
Total cycling time: 10 - 11 hours
Difficulty level: Moderate
Since the village of Pawas is very basic, the group will first proceed to Adivare town for breakfast, and then proceed towards Ambolgad.
Although this day is marked by long-distance cycling, the beauty of the landscape and the absence of steep climbs make it a pleasant ride.
Lunch would be on the go and you will reach Kunkeshwar by late evening. This town is famous for its temples and you should visit a few while you are here.
Overnight stay will be in a guesthouse here.
Day 7: Kunkeshwar - Vengurla
Total cycling distance: 95 kilometers
Total cycling time: 10 - 11 hours
Difficulty level: Moderate
Like the previous day, this day of your Mumbai to Goa cycling trip is characterized by long-distance cycling. Therefore, it is advisable to start early and have breakfast at Achara. If you don't halt unnecessarily, you will reach Malvan and have enough time to make a quick visit to the famous Sindhugad fort.
This fort is situated right on the coastline of Arabian Sea, and many water activities are possible here. Snorkelling, in particular, is very popular around the fort. After a small break to see the fort and its surrounding area, the group will continue cycling to reach Devbag and have lunch there.
Post-lunch, you will have to board a ferry to arrive at Bhagove. From here, you will continue pedalling until you reach Parule and then Vengurla.
The last lap of this route is especially scenic and offers extraordinary views of the seascape.
The scenic delights offered by this cycling route are described beautifully in many Mumbai to Goa cycling blogs. Overnight stay will be at a guesthouse in Vengurla.
Day 8: Vengurla - Calangute
Total cycling distance: 55 kilometers
Total cycling time: 6 - 7 hours
Difficulty level: Easy
After an early check out from Vengurla, you should ride all the way to Redi and have breakfast there.
Post-breakfast, you will pedal and cross Arondha and enter Goa. Once in Goa, you will feel the verve associated with the state.
The warmth and cheerfulness of the locals will be evident. The magnificent views of rice fields, cashew plantations, and historical churches would be the icing on the cake.
The last day of your cycling trip from Mumbai to Goa will be perfectly timed because you will arrive at your destination just in time for lunch.The trip will culminate at Calangute after you have experienced the beauty of the scenic Mumbai to Goa coastal route.
What if you plan to extend your cycling trip in Goa?
Well, we have just the right plan here!
Check The Complete Guide to Enjoy Cycling in Goa: Coasts, Lakes, Villages And Spice Plantations
Mumbai to Goa Cycling Trip: Additional Details
In addition to the detailed itinerary and route details, there are few other essential things that you should know about cycling from Mumbai to Goa. These details are mentioned below.
Difficulty Level
Although the terrain on the Mumbai to Goa cycling route is pretty flat, this trip entails that the cyclists cover long distances each day. Therefore, beginners and novices should not consider participating in this trip.
Also, read 8 Tips for Uphill Cycling
Health and Fitness
This factor is applicable to all cycling events in Mumbai, and not just the cycling trip between Mumbai and Goa. Before enrolling in a group tour or finalizing an individual cycling trip, it is important to train accordingly, and ensure that your health permits cycling for such long distances.
Know more about Cycling Exercises: Cyclist's Routine - 5 Exercises That You Should Do
First Aid
Basic medical intervention and first aid supplies are available with the tour leader. However, in case of a major accident or health issue, the participant will have to contact the nearest health service provider.
Do check about Common Cycling Injuries: How to Prevent and Treat Them
Food and Accommodation
Most group tours have the provision of basic meals and fixed menu. Packed food is also provided whenever required. The accommodation is basic and comfortable.
Know all about Pro Cyclists Diet: What Should an Ideal Diet Plan consist of?
Bicycle repair
Tour operators make sure that a mechanic is available throughout the duration of cycling events in Mumbai. However, having basic knowledge of repairing a bicycle is always helpful.
Know all about Bike Maintenance: Basic Guidelines Every Cyclist Will Need
Tour Leaders and Local Guides
Most planned group cycling tours have an experienced tour leader who accompanies the participants throughout the tour. In addition, these tours also have the provision for arranging a local guide, if needed.
Cycling is garnering immense interest among people of all ages. Mumbai is located very close to various places that offer the perfect cycling routes.
Check out the 5 Incredible Cycling Trips in India
Therefore, many cycling events in Mumbai are being organized regularly. One such event is the Mumbai to Goa cycling trip that spans over 8 days but promises a therapeutic dose of picturesque landscape throughout the route.
If you have always wanted to go on a road trip with friends, you should definitely consider this cycling road trip.